Editor's note: See the most recent post about the issue here. 
If a county proposal goes forward, the Starr Pass trail in the photo above could be paved with a shared use path.
The county is proposing paving one of two routes through Tucson Mountain park to connect to the the Loop on the west side of the Tucson Mountains. One of the proposals would include paving major portions of trail popular with mountain bikers and hikers.
The frist route would be routed through Starr Pass, up to the "four way" and then down near the reservoir and up to the Genser trailhead.
The second route would head around the south side of the Tucson Mountains and connects to Greasewood Road north of Ajo Highway.
Nanette Slusser, the county's assistant administrator, will present the plans to the Tucson-Pima County Bicycle Advisory Committee at their meeting tonight.
If you would like to go, the meeting starts at 6 p.m. and will be held at the Ward 6 council office located at 3202 E 1st St, Tucson, AZ 85716
Check out the map of the two routes below: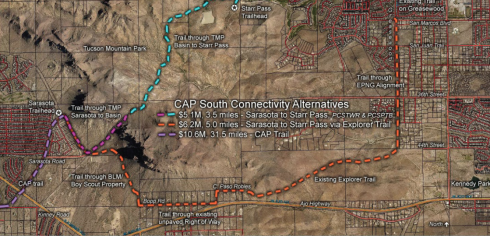 Check back tomorrow morning for an updated story following the presentation by the county.