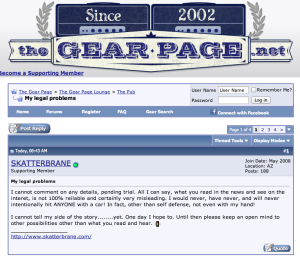 It appears the driver accused of hitting and harassing cyclists on the Jamis-Hagens Berman cycling team has begun to defend himself in an online guitar forum.
The post, which appears to have been removed, was created at 8:43 a.m. by the user Skatterbrane, the name of the business Rodney Kinkade Jr. owns.
In the post, which TucsonVelo downloaded prior to the thread being removed,  he asks for people to keep an open mind and not believe everything they read since it is only one side of the story. In the post headlined "My legal  problems," Skatterbrane wrote:
"I cannot comment on any details, pending trial. All I can say, what you read in the news and see on the internet, is not 100% reliable and certainly very misleading. I would never, have never and will never intentionally hit ANYONE with a car! In fact, other than self defense, not even with my hand!

I cannon tell my side of the story …….yet. One day I hope to. Until then please keep an open mind to other possibilities other than what you read an hear. "
After several posts by other users saying they will reserve judgment, he adds:
"Thank you. I really appreciate it. I have nothing against cyclist [sic], two of my brothers are cyclist [sic]. Another person very close to me was hit by a truck while riding a bike. I hope to clear this up, but it is possible that I go to prison, and that is scary. And no matter what happens, my meager means of making a living will most probably be destroyed.

Just do not expect me to answer any questions, I cannot even discuss this with my family. It takes a LOT of discipline not to.

I can now see firsthand what it is like not to be able to defend yourself while the news and "other side" can use public opinion as their advocate."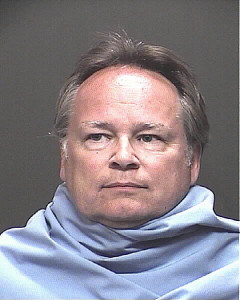 Another poster mentions that he allegedly washed the car and says he shouldn't expect support from the forum. In his response he alludes to a closed thread on the same forum about the crash:
I am not seeking support per se'. And, the "freshly washed car" is one of the items accepted as fact, and it is simply not true. I keep my car clean, and the last time it was washed was in early Feb. and has not been washed since! A garaged car seldom driven can stay pretty clean for a long time!

I wash my car in my driveway, not at any car wash!

I would have not posted anything about this, except simply to make a brief comment, in response to this closed thread on this subject. I had intended to simply post in the closed thread on this subject. I had intended to simply post in the closed thread.

Hopefully this thread can be closed and remain up as long as the other one remains up."
Searching through the forum I could not find the thread he referenced.
Later in the thread he responds to critics.
"… I am not hiding. I am embarrassed, scared and depressed. I am complying with all the court's orders. I am not guilty of the charges, nor am I the monster people would like me to be.

I emphasize with the person who was injured. I want to meet him some day. I am trying to put myself in their place to understand.

I cannot say they are lying until I hear what they have to say coming from their own mouths.

I know it looks bad for me, and I understand the anomosity [sic]. Most (no?) people commenting knows me personally. Mose of my detractors have never dealt with me directly. Most never will.

Take what you read with a grain of salt. As, I say, I hope that I can tell my side soon. The sooner the better. I am very anxious!
In his final post he says one of the cyclists involved asked him to make a public apology on their blog. He then says he is going to stop posting on the thread.
The final post appears to have been left at 11:17 a.m. before the post was removed.
H/T to the commenter who left a comment linking to the thread.
I took screenshots of the four page forum. Feel free to download them and read the entire thread. Page 1, Page 2, Page 3, and Page 4.