Editor's note: This post was written by Martha Retallick who is a freelance writer, photographer and web designer. You can learn more at her website. WesternSkyCommunications.com. 
After a 2011 event that attracted 120 people, what could Tucson's annual Ride with Gary Fisher do for an encore? Nearly double the attendance, that's what.
Last night's excursion with the the father of mountain biking drew approximately 200 people. Presented by Trek Bicycles of Tucson, this event was a benefit for the Living Streets Alliance (LSA).
The ride was one of those leisurely affairs that ambled through central Tucson's historic neighborhoods and ended at Downtown's Borderlands Brewing Company. Crowd control was provided by members of El Grupo Youth Cycling and the Living Streets Alliance.
At first, there was quite an emphasis on keeping the riders together. South of Grant Road, the Mountain Avenue playbook changed to "Move this thing along!" Think "cattle drive on speed" and you've got the idea. We rolled up on Borderlands before we knew it.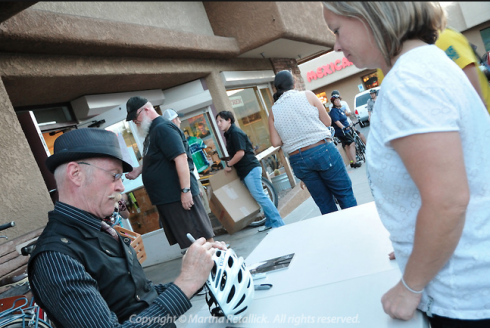 The star of the show, Gary Fisher, looked quite fit after 50 years of bicycle racing. He has become quite the advocate for utilitarian cycling, and seemed quite pleased to be among such a big crowd of "just folks" riders. Fisher cheerfully autographed pictures, bicycles, and helmets.
DJ Andy DePew provided very dance-able music for the Borderland crowd. A few cyclists were seen moving their bodies in a rhythmic fashion. Most were content to simply enjoy Borderlands' beer and food from the Seis Curbside Kitchen and Mexican Asian Food Company trucks parked outside. A preview of VelociPrints' November art show was also available.
A portion of Borderlands' beer sales were donated to the Living Streets Alliance. Judging from the all-the-way-out-the-door length of the beer line, LSA did quite well.
If beer, food, music, and one of cycling's legends wasn't enough, how about a raffle of a Trek Earl commuter bike? The lucky winner is Steve Haynes, who had already left for the evening. No worries. He got a congratulatory phone call that included cheers from the more than 100 people still remaining at Borderlands.
See more of Martha's photos from the event.