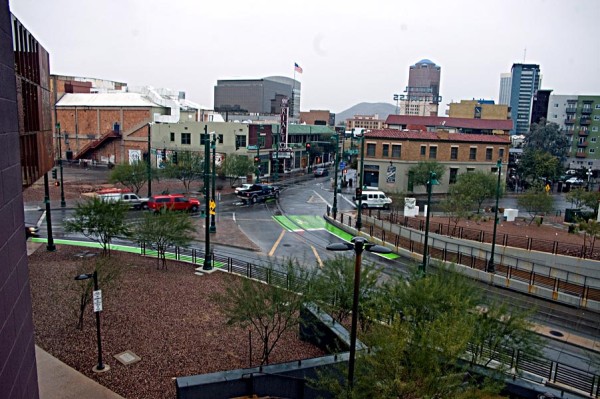 The City of Tucson will once again be closing the Fourth Avenue underpass to motor vehicles this weekend, but it will be on an "as needed basis."
The underpass has been closed to cars on Friday and Saturday nights for several weeks because the heavy traffic was making it impossible for the streetcar keep its schedule.
It is however not necessarily the fault of the motorists that the area is getting backed up.
It's actually the massive amount of pedestrians on the weekends that are backing up traffic and making it impossible for the streetcar to keep its schedule.
Tucson transit director, Jeremy Papuga told the Tucson-Pima County Bicycle Advisory Committee members that the high number of pedestrians was allowing only a small number of cars to make it through the intersection before the light turned red.
The city has been working with traffic engineers and police to retime the lights to allow more vehicles to exit the underpass.
This week however the closures will be on an as needed basis according to a city press release.
Moving forward and until further notice, southbound motor vehicle
travel through the Fourth Avenue Underpass will be detoured to Stevens
Avenue on Friday nights and Saturday nights on an as-needed basis if Sun
Link Streetcar operations are affected. Tucson police officers will
continue to provide point control starting at 7 p.m. on Fridays and
Saturdays to assist with motor vehicle and pedestrian movements at the
Congress Street, Fourth Avenue and Toole Avenue intersection.

After several meetings with neighborhood representatives and merchants
near the Fourth Avenue Underpass, as well as traffic signal timing
adjustments and reconfiguring travel on Toole Avenue, the City of Tucson
Department of Transportation (TDOT) will initiate a southbound underpass
detour when congestion affects streetcar operations.

When a detour is in effect, the Sun Link Streetcar, bicyclists and
pedestrians will be allowed to travel southbound through the Fourth
Avenue Underpass. Northbound travel through the underpass will not be
affected when a detour is in place. During a detour, motorists will be
directed west on Stevens Avenue, then north on Fifth Avenue, then west
on Seventh Street to Sixth Avenue. Motorists can then travel south on
Sixth Avenue to access Downtown.
The underpass will remain open to bicyclists regardless of the status of motor vehicle detours.