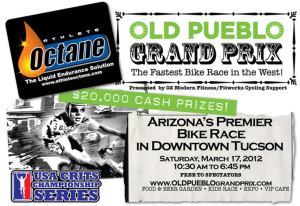 With less than three weeks before the Old Pueblo Grand Prix in downtown Tucson, registration for the event is is lagging.
As of Monday morning the event registration site showed 49 participants had registered for the March 17 event, which also marks the beginning of Tucson's Bike Fest.
The race pays out $20,000 in cash, though the bulk of it goes to the elite men and women categories. The elite men category will pay out almost $10,000, while the elite women category pays out $5,000. The remaining $5000 is dispersed among the remaining seven categories.
In 2011, the race's first year, 316 racers registered for the event.
The race happens to fall on the same weekend as the San Dimas (Calif.) stage race, which may create a conflict for some racers. The San Dimas Stage race currently has over 600 registered participants.
Check out the website and register here.
Be on the lookout for more stories about Bike Fest in the coming days.
Check out the photos from last year's Old Pueblo Grand Prix.