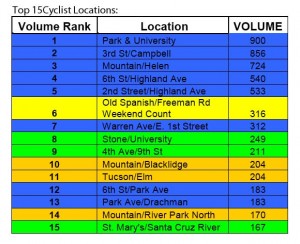 According to revised numbers, Tucson saw a 26 percent decrease in bike riders during the 2009 bike count.
Ann Chanecka, the Pima Association of Governments planner who is in charge of the bike count, said a mistake in the spreadsheet created a count that was higher that it should have been.
According to the report, 7,722 cyclists were counted at 43 locations in 2008. In 2009 5,696 cyclists were counted at the same locations, which is a loss of 2,026 cyclists 0r 26.4 percent.
Chanecka believes the weather was a factor in the decrease, noting in the report:
The first day of the count, Tuesday Oct. 27th had normal weather for Tucson for late October, However, a cold front came through that night and temperatures dipped to 35 degrees in the morning, which broke record lows for the next two days of the count. The record lows likely affected the data for this annual count.
When the original numbers were released, Chanecka said they had some indications that the weather may have affected the count by about 20 percent. Here is what I wrote originally:
In a phone conversation, Chanecka said they do have some data that suggests the weather may have affected the count by as much as 19 percent.

They compared the counts from Tuesday, Oct. 27 and Thursday, Oct. 29 at Park and University, which was the most trafficked intersection. There were 19 percent more riders that came through that intersection on the pleasant morning than the much colder morning.

According to Chanecka, there were two other sample locations that were recounted on warmer days, which showed jumps of 25 and 50 percent, but she said felt more comfortable with the Park and University count because it had the highest sample size.
Tucson isn't the only place where ridership declined. Portland saw its first decline in five years. Although, with 5-8 percent declines, it wasn't nearly as dramatic and it was still higher than their 2007 numbers.
In addition to the weather, lower gas prices may have contributed to this year's decline.
The rest of the numbers:
In the numbers comparing 2008 to 2009 at the 43 locations that were counted both years, female ridership saw a slight increase from 26.6 percent to 29.2 percent.
Helmet use declined 3 percent, but wrong way riding and sidewalk riding saw slight declines of .08 percent and 1.3 percent respectively.
Fifty six additional locations were counted in 2009 because of extra volunteers. Overall, 9796 cyclists were counted at 99 locations.
Download the preliminary report here.