Editor's note: Karilyn Roach wrote this post. She holds a MS in Urban Planning from the University of Arizona and works as a Program Coordinator with Watershed Management Group, a Tucson non-profit. She currently sits on the Tucson-Pima County Bicycle Advisory Committee and rides a Jamis Aurora Elite.
The fifth race of the MBAA 2012 season, the Prescott Punisher, was set to be held on Saturday, April 14. After four inches of snow fell on the trails Friday night, race organizers and the Forest Service decided "it was in the interest of rider safety and trail sustainability" to cancel the event.
According to the MBAA website, organizers are looking at the possibility of re-scheduling the race. However with the Whiskey 50 Off-road race to be held in Prescott in just two weeks, and the last MBAA race in Flagstaff in one month, they will be hard pressed to find time.
Some hardy Tucson riders – TJ Woodruff, Charlie Roach, and John and Nora Beck – decided the day should not be wasted and braved snow and mud to pre-ride the Skull Valley climb section of the Whiskey 50 course.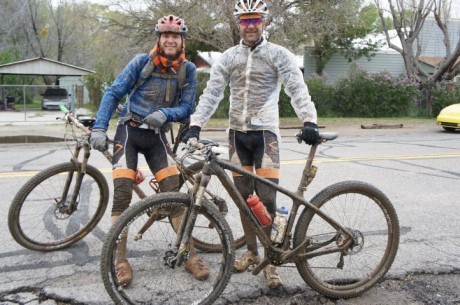 Here are a few more photos of their adventure and the muddy race course.