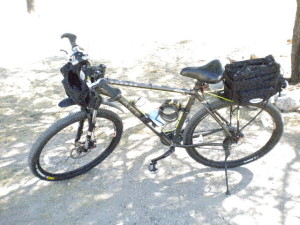 It turns out the stolen bike that turned up on the City of Tucson public auction site last week never went through the Tucson Police Department.
Lugh Schoonover's Accent mountain bike was left on a bike rack on a Sun Tran bus after being stolen in June.
Schoonover wrote an email to me detailing what happened:
I'm Lugh Schoonover, the owner of the bike you found. I wanted to thank you for your help and give you a bit more of the story as I know it. I was a bit surprised that I hadn't been informed by the police about my bike being recovered. It turns out there is a very good reason for that. The bike wasn't recovered by the police. It seems my bike spent quite some time in the Sun-Tran lost and found. Apparently someone placed my bike in a rack on a bus, then exited the bus without remembering to take the bike with them!

So my bike was remanded to Sun-Tran's lost and found, then eventually turned over to Public Surplus to be auctioned off. Thank you for monitoring their auctions or I might never have recovered my bicycle, which means a lot to me.

I'd like to pass along to your readers a couple of things that made what could have been a nightmare a relatively easy experience. First off, photograph your bike! Not just beauty shots, take a picture of the serial number on the bike. This made things much easier and impressed people with how thorough I was willing to be in getting my bike back. Also, have someone take pictures of you with your bike. This establishes the bike as your possession. Those two pictures, plus picture ID, left no doubt as to who owned the bike.

Since they had posted the serial number, knowing it really wouldn't have helped, so don't just write it down, take a picture! Also, always lock your bike. I was foolish enough to believe that since I was within 3 feet of my bike, it was safe. If I'd been wearing running shoes, I probably would have been able to catch the thief. But i wasn't wearing appropriate running shoes and they were able to get away. Again, thank you for your help!
We wrote about Sun Tran's lost and found a while ago as a place to keep an eye out for stolen bikes.
Stay tuned to Tucson Velo for a post about how TPD attempts to track down the owners of bicycles they recover.