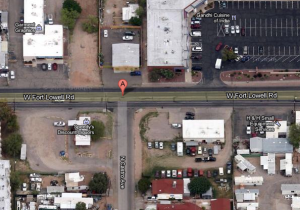 A 58-year old male because the fourth Tucson pedestrian killed on when he was hit by a car while crossing Ft. Lowell on Monday, Feb. 11.
The crash took place at about 6:45 p.m. on Ft. Lowell Road near Casto Street.
According to a Tucson Police Department press release the man was walking south across Ft. Lowell when a 2011 PT Cruiser struck him.
He was taken to the hospital where he later died from his injuries.
From a Google Maps view of the intersection, there does not appear to a crosswalk in the area.