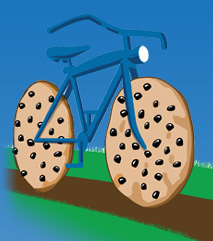 There is still time to register for the 2010 Tour de Cookie, which rolls into Tucson and out of  Brandi Fenton Memorial Park Sunday.
Tour de Cookie combines baked goods, bikes and charities. Proceeds from the event go toward the City of Tucson's Adaptive Recreation Center and help pay for the Tucson Kids' Try-athlon, which is a free triathlon for special needs children.
Winners are determined by overall time and how many total pastries were purchased at each of the 10 cookie stations.
The ride starts at 8 a.m. and registration is available online or day of at the event. For more information and online registration, check out the Tour de Cookie's website.