It never fails to amaze me how genuine, down-to-earth and fun cyclists are.
I was lucky enough to get a personalized tour of Los Angeles by six local cyclists.
The ride was primarily organized by Jennifer Beatty who I met on Twitter. She coordinated the ride with other cyclists and figured out a route that would let me get a feel for cycling in L.A. Jennifer went to the University of Arizona and was in Tucson a few weeks ago. Follow her on Twitter.
One of the riders who joined us was Jeremy Grant. He is a member BikesideLA, which is one of the newest bike-advocacy groups in L.A. I'll post a story in a few days outlining what the advocacy groups in L.A. are trying to accomplish. This post will be primarily about the ride. Follow Jeremy on Twitter.
Joe Anthony had been helping me with good routes before I arrived in L.A. and I was glad he joined us for the ride. When he moved into his current place above the bar where we met for the ride, he said he found that he was using his car less and turning to his bike more. He is now living car-free in L.A. Follow Joe on Twitter.
Attorney Ross Hirsch was in San Diego for a deposition, but still managed to make it back in time for the ride wearing his suit on his fully loaded touring bike. Follow Ross on Twitter.
Rachel Stevenson is an astronomy graduate student at UCLA and was a lot of fun to ride around with. Follow her on Twitter.
Amanda Lipsey is also living car-free in L.A. and has done double centuries on her ill-fitting Schwinn Le Tour. She is building up a new bike. You can see her progress by following her on Twitter.
Now for the ride. I rode from downtown L.A. to our meeting spot in Koreatown at 6 p.m. last Wednesday.
Here is the route:

The roads were more crowded than the previous two times I had ridden, but the drivers were still courteous — with one exception.
The only issue I encountered was with a bus driver who passed me on the left and then pulled over to pick up passengers. The driver nearly ran me into the curb and seemed oblivious to my existence when I went around him.
I rode past the bar where we were meeting a few times, but eventually spotted it and met my tour guides.
After a drink and some discussion about the route, we decided to ride toward the "bicycle district."
Los Angeles' "bicycle district" is at the corner of Melrose and Heliotrope or "HelMel" The bicycle district's highlights consist of the Orange 20 bike shop, The Bicycle Kitchen co-op and a mural painted by bike messenger, "Cache."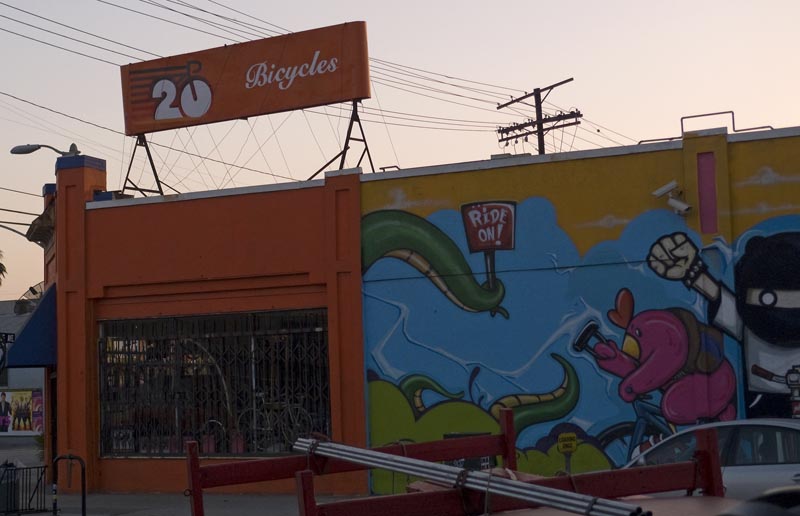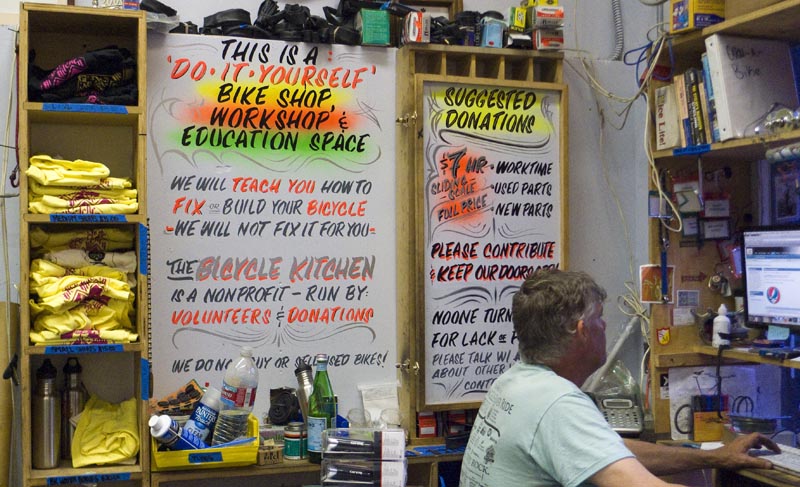 According to Jim, a Bicycle Kitchen employee, the Bicycle Kitchen started in the founders' own apartment kitchen, but moved to its current location in 2005. The idea is similar to BICAS, but the building is much smaller. The "cooks" host workshops similar to BICAS. More about the Bicycle Kitchen.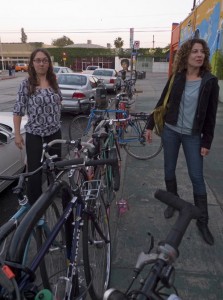 During our tour of the Bicycle District, we ran into Aurisha Smolarski who is the communication director of the Los Angeles County Bicycle Coalition.
We continued north and eventually cut over to Sunset Boulevard on L. Ron Hubbard Way, which was an interesting street than ran along a large blue building emblazoned with the word "Scientology."
We made our way up to Hollywood Boulevard, where we stopped to take a break and had Spiderman take the photo at the top of the post.
We rode down La Brea and past the La Brea Tar Pits, then we hit the Los Angeles County Museum of Art to check out their "Urban Light" exhibit.
After the museum we rode over to Barney's Beanery in West Hollywood for dinner. You'll notice from the photo below that we had to lock up our bikes to a handrail 30 feet from the restaurant because there weren't any racks around.
After dinner, we rode back to the start of the ride and all went our separate ways.
Aside from the bus that nearly ran me off the road, drivers were just as courteous as they are here in Tucson, which is impressive since there are very few bike lanes. There were a few cars that passed too close, but that happens here in Tucson even with the bike lanes.
I was impressed with all the bikey things L.A. has to offer and if the city ever gets their act together and starts adding bike infrastructure to the streets, L.A. could become a real cycling destination.
During our entire ride there was only one stretch of road that had a bike lane, which lasted for maybe a mile or two.
Most of the drivers we encountered were courteous. There were a few who passed too close and one who honked, but for the most part the drivers and cyclists coexisted.
I doubt drivers would have been as congenial if we were in Tucson riding on Speedway at night if it didn't have a bike lane.
I wonder if all of Tucson's bike lanes have made drivers here think we don't have any right to be in the actual travel lane. Perhaps in L.A. because there are so few bike lanes, drivers respect their rights to be in the road more so than they do here.
One other interesting note is that many of the organized bike rides are at night. Apparently it is because so many people leave L.A. at night that they can enjoy their ride more with less traffic. There is even a website devoted group rides at night, which seems to have at least one ride every night.
I can't thank my tour guides enough. It was an amazing experience.
There is something really special about bike people. In a way, it is similar to religion — in that regardless of what city you are in — the other members of the congregation will accept you into the fold.
I am glad I am a member of the bike church.
To make it easier to view the photo gallery from my time in L.A., I created a separate post for the photos and video. Check it out.