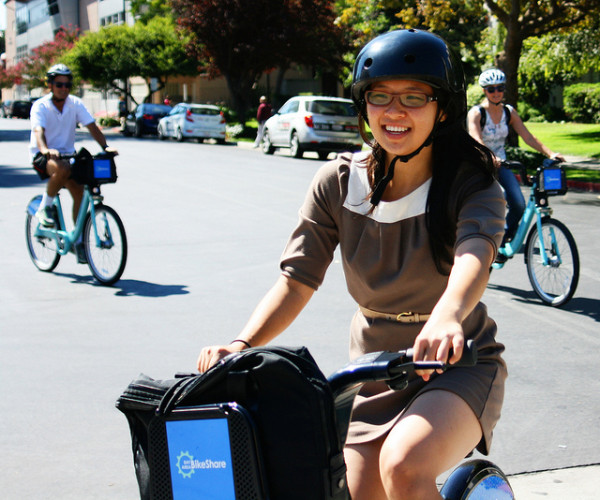 If all goes according to plan, a bike share system could start rolling on Tucson streets by the end of 2015.
Last week the Regional Transportation Authority's Transportation Improvement Program subcommittee voted to provide $75,000 to the city to hire a consultant to evaluate the appropriate bike share system for Tucson.
The funding still has to be approved by the larger Pima Association of Governments council , but that will likely happen on Dec. 5.
Ann Chanecka, the city's bicycle and pedestrian program manager said assuming the RTA council signs off on the money, the city will hire a consultant in January  to determine which type of system and where would be the best places to locate the stations.
"First up is looking at what is feasible and creating a plan from there," Chanecka said.  "That is where we are at right now. "
Chanecka said she believed bike share could be work well with the streetcar.
"It will compliment the streetcar, which is a  4 mile fixed route," she said. "We'll likely place stations along the route and it will extend the range the streetcar will offer us.
Chanecka said she's heard some concern that we aren't Chicago, San Francisco, Boston or New York where bike share has been so successful, but said there are other places much smaller that have had successful systems.
"It's  about finding the right size system and model for us," she said. "There will be a learning curve."
There are currently more than 30 bike share systems running and many more on the way.
The city has already performed a climate change bike share study, which can be found here.
The study used a 600 bike system with 50 stations model to estimate the climate benefit from such a system. The feasibility study could recommend a different system.
Chanecka said she thinks Tucson may be a great spot to try solar powered stations, which also has the benefit of allowing the stations to be moved for events like the Gem Show.
"If we can have stations setup for the gem show and increase the mobility, that would be great," she said. "It's another opportunity to move people around and have another transportation option."
What do you think? Would you like to see a Tucson bike share system?