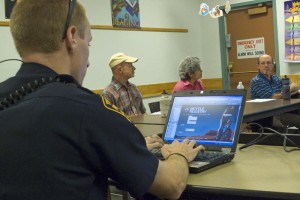 Just over two years ago a Tucson Police Officer presented a completed version of a voluntary bicycle registration database to the Tucson-Pima County Bicycle Advisory Committee. At the time they were just waiting the city's IT approval.
Two years later the completed site is still not live and has been put on the "back burner" because the Police Department switched to a new system and the transition hasn't gone smoothly.
"As I suspected, it got put on the back burner for now while higher priority tasks having to do with new computer systems and such take priority," Sergeant Maria Hawke wrote via email.
Hawke said it didn't go live two years ago because there was a problem connecting the database to other that the city wanted it to work with.
Here's a snippet from the original post about how the site worked:
"It is basically a free way for you to keep track of your bicycles and for us to access that information," Tucson Police Department patrol officer Jesse Cornia told the Tucson Pima County Bicycle Advisory Committee during their meeting Wednesday.

The site, which has been completed, is not yet live because the city's IT department is reviewing it to ensure it is up to their security standards.

Cornia said he did not know when it would be live, but said it is a priority in the police department and hopes to have it live soon.

"My preference would be to get it up next week," Cornia said. "As far as our a city IT department goes though, they are kind of inundated with a lot of stuff."

Once the site is live, users will be able to create a profile, add an unlimited number of bicycles and add the serial number, make, model, color and more. Users can also add an image of the bike.

If your bike is reported stolen and you have registered your bike on the site, TPD can check the serial number against the pawnshop database.
The connection to the pawnshop database was potentially a huge benefit to cyclists who have had their bikes stolen.
Hawke said she had no idea when the database might actually get activated.
"The database/system does exist….it just hasn't been activated at this point…. and I can't get an expected time frame for potential activation from the IT department because they are still buried under a mountain of other work having to do with our new computer systems."