Editor's note: Karilyn Roach wrote this post. She works as Program and Communications Coordinator with Watershed Management Group, a Tucson non-profit, and sits on the Tucson-Pima County Bicycle Advisory Committee. She rides a Jamis Aurora Elite.
Local pro rider TJ Woodruff took first place in the season opener of the MBAA—Mountain Bike Association of Arizona—2013 race season on Saturday.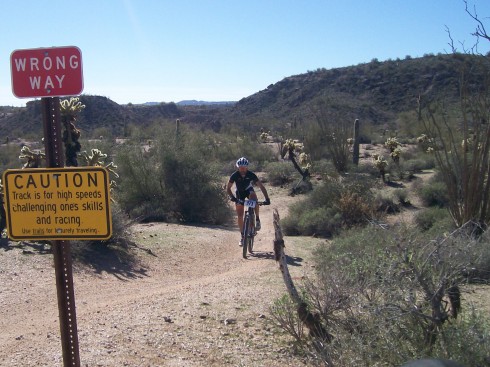 Read my post from last year, where Woodruff and Women's Pro rider Krista Park, also from Tucson, took first place in their categories.
The 2013 McDowell Meltdown was held at the Competition Track at McDowell Mountain Regional Park in Fountain Hills, AZ. Hundreds of racers from first-timers to pro, competed in age groups ranging from 10–12 to 50+.
With frigid temps just a week ago, riders were relieved to have ideal conditions for this race. It was sunny, breezy and in the 70s.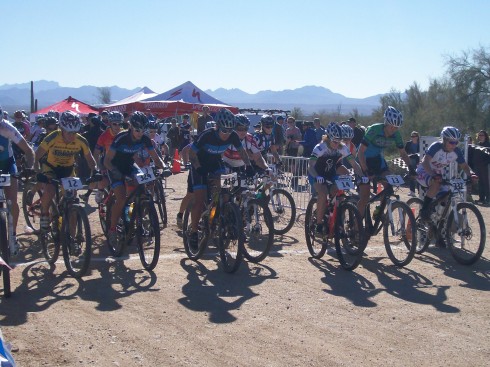 Race organizers, responding to criticism last year from riders in the Pro and Cat 1 groups, shuffled start times so that these more competitive categories would not be sharing the track with less experienced riders. The morning started off with Cat 2 & 3 men and women, the marathon riders, and others. Later in the morning, Pro and Cat 1 Women took the course, followed by the Juniors. And the day wrapped up with Pro and Cat 1 Men, who started at noon.
Kids 9-years-old and younger also had a chance to shine. About 20 kids participated in the Kids' race, which is always a highlight at the MBAA events. It was a short course for the kids this year, but everyone got into the spirit and had fun.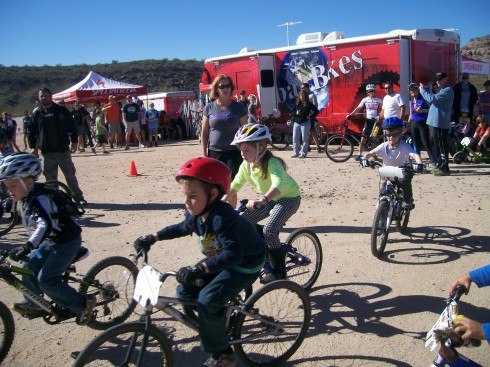 McDowell Meltdown 2013 summary results:
Pro Men
1  01:39:37  WOODRUFF, TJ — Tucson, AZ
2  01:41:09  O'BRIEN, Thomas — Scottsdale, AZ
3  01:42:29  KELLER, Scott — Sedona, AZ
Pro Women
1  01:46:50  SKAGGS, Kata — Phoenix, AZ
2  01:49:09  UTLEY, Beth — Oro Valley, AZ
3  01:50:10  BREDE, Jaime — Tucson, AZ
Cat. 1 Men Open
1  01:44:42  WIMBUSH, Mike — Phoenix, AZ
2  01:46:48  SVENDBLAD, Henry — Scottsdale, AZ
3  01:46:49  CARLSON, David — Tucson AZ
Cat. 1 Women Open
1  01:50:37  BEATTY, Lee-Ann — Maricopa, AZ
2  01:53:26  JEFFREY, Christine — Tucson, AZ
3  01:54:10  MATTER, Andrea — Sheboygan, WI
Full results are available on the MBAA website here.
The next race, White Tank Whirlwind, takes place in just three weeks, on Saturday, February 9, at the Competitive Track at White Tank Mountain Regional Park in Waddell, just west of Phoenix.
You can check out a few more pics from the day below.