Last week I attended a conference about mobile applications at the University of Arizona. Once of the breakout sessions I went to was a presentation about a new interactive map the UA's School of Geography and Development is working on.
It's currently in a beta release and works well on desktops and tablets, but needs some refining for use on mobile phones.
In the demo, the team showed off some of the features and I was surprised to see many bike and alternative transportation related features.
Here are a few screenshots of the various alternative transportation features:
1. Bike Parking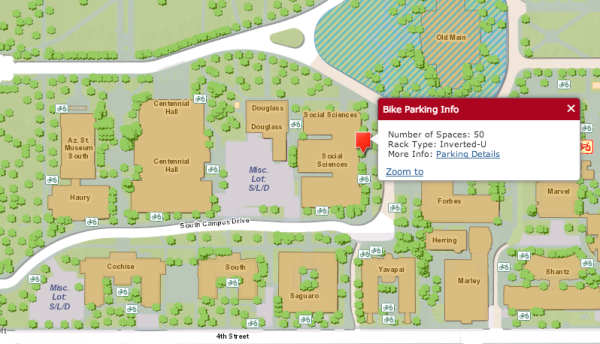 The map shows all of the bake parking across the campus, including the paid lockers. The information window shows how many spots there are and what type of rack is there.
2. Transit and live tracking
The map shows the UA's shuttle routes and stops, streetcar routes and stops as well as bus stops near campus. Even cooler, the map tracks where each of the shuttles are in real time.
3. Biking and walking
The maps also highlights biking and walking routes on campus.
Check out the map here.