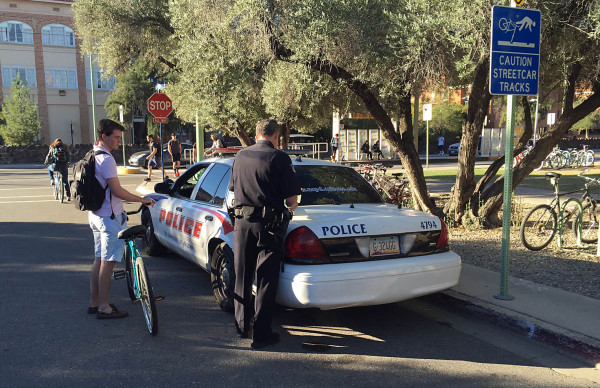 Last week the University of Arizona Police Department was awarded a grant to "educate and enforce" bicycle and pedestrian violations. This week UAPD was stationed at Olive and 2nd Street stopping cyclists.
According to a UAPD press release, the department received the state grant to target pedestrian and bicycling violations.
Understanding and complying with traffic laws as they apply to bicyclists, pedestrians, and motorists is crucial in promoting a safe travel environment for everyone.  The Bicycle/Pedestrian deployments will be at high traffic volume times and are designed to educate community members on University regulations and enforce Arizona State laws related to bicycle and pedestrian traffic.

In an effort to increase pedestrian and bicycle safety, University of Arizona Police Officers will also hand out reflective wrist straps to pedestrians and bike lights to bicyclists at night to increasing voluntary compliance with bicycle laws.