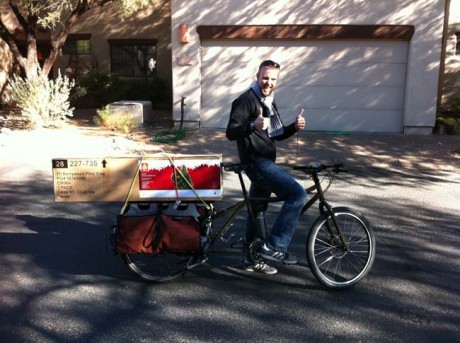 I had to go get some dog food this morning (which I also brought home with the tree, but took off for the photo) and decided to check to see if Home Depot still had one of their Christmas trees left. It turns out someone has just brought this one back, so I snagged it.
It took a while to figure out how to load the tree and the dog food, but I eventually figured it out.
I even got to ride home with a Tucson Velo reader who I ran into at the store. We road part way back together, which was great  except for the impatient driver who gave me the one-finger salute.
I took the whole lane for a 100 yards or so on Limberlost east of First Avenue. There is no bike lane in that section and the road is too narrow to safely pass because of the median. Rather than give drivers the opportunity to try to pass, I take the lane.
Times like that make me wish I had some way to make cars stop so I can explain why I am doing what I am doing. I'd also like to be able to wish her a very happy holidays.
Any one else brave the crowds on their bikes?