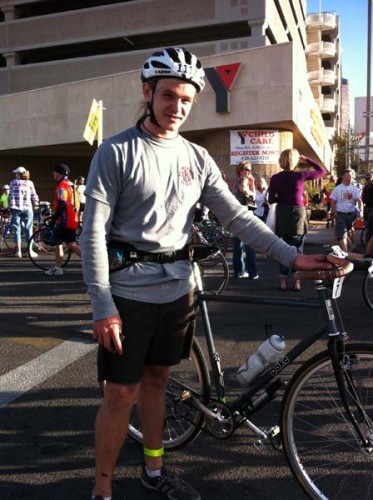 James Payne rode the full 109-mile El Tour de Tucson on his recently built single speed Pake C'mute.
He says he built his bike from the ground up, with Velo Orange, Sugino, Ritchey and Tektro components, which took him about three months to round up. He had Arizona Bicycle Experts install the bottom bracket and headset.
He says it is his everything bike. He commutes on it, gets groceries and explores the city because he recently moved from California to Tucson.
He finished No. 3,009 out of 3,547 with a time of 9:07.
James says it was the first time being around so many other cyclists and he really enjoyed it. He says he stuck out because he was wearing his normal street clothes, but says everyone including the drivers were really supportive.
"I was amazed at the positivity from the community and toward the riders, even the people stuck waiting in their cars seemed patient and even supportive," he says.
Payne rode to the start and home after he finished, which he says added up to 125 miles for the day. Payne says he had a great time and can't wait to ride it again next year.