This weekend I'll be pedaling this rig up Mt. Lemmon for my first bikepacking excursion.
The camping trip is part of the national Swift Campout organized by bike bag maker Swift Industries and hosted locally by Bicycle Tucson sponsor Transit Cycles.
I've got plenty of options for camping trips by bicycle to go with my commuter/touring bike, but the prospect of riding up Mt. Lemmon with the heavy bike seemed daunting. I've been wanting to get bike packing gear for a while and this was a pleasant excuse to get the seat bag and handlebar roll.
Bikepacking differs from touring in that the gear is hung from the bike as opposed to from racks. It gives people more options to use different types of bikes to go bike camping.
Fortunately, Bike Shop Hub, Bicycle Tucson's newest sponsor, had many of the Revelate Designs' bikepacking equipment in stock and available for pickup locally.
I grabbed the Viscacha seat bag and the Harness handlebar roll.
Here's all that I have packed into the bags. 
The front bag is a small Alps compression sack. In it I have a REI Quarter Dome One tent (minus poles and stakes), an Enlightened Equipment Revelation quilt and a Cocoon inflatable pillow. The totaly weight is 3.8 pounds.
In the seat bag I have the tent poles and stakes, Big Agnes sleeping pad, water kettle, primus stove, liquid fuel, lighter, headlamp, GSI collapsible coffee cone, GSI collapsible bowl/coffee mug, knife and change of clothes. The total weight of the saddle bag is 7.8 pounds.
There is still room for snacks/dry food in the rear bag.
Here are a few more shots of the setup: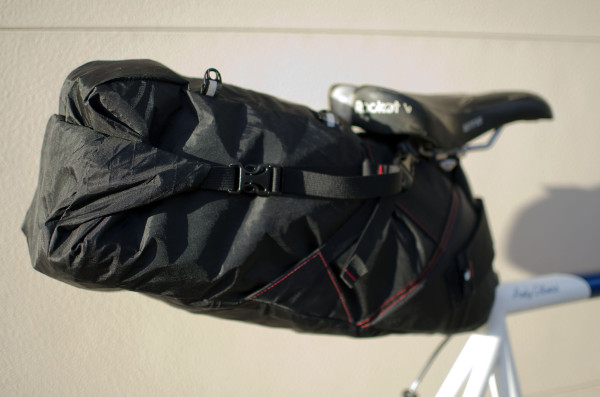 What I am really looking forward to doing is putting this setup to work on the Mountain Bike when fall hits. What am I missing in my gear setup?