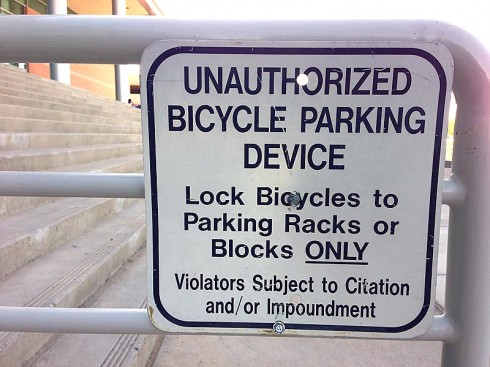 As many of you know, I am currently working toward an MBA from the University of Arizona's Eller College of Management. I ride my bike to class every week.
I usually don't park my bike around the building, choosing instead to keep it locked up in the enclosure I rent from the UA.
The other day, however, I was running late and parked by the building. The parking was full and I only got a spot when someone left. I noticed this sign above while I was trying to find a spot.
Seems to me that if you have such a problem of people locking their bikes to the handrail, that maybe it would be more effective to add additional parking as opposed to putting up a sign banning locking to the handrail.
As I was taking the photos, a UA student unlocked his bike and asked if I was trying to get more bike parking.
He said he parked there everyday and the rack was always packed and it was hard to find parking. He said he hoped the UA would add an additional rack.