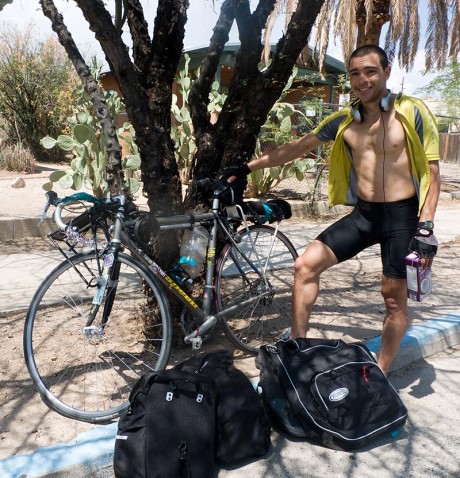 I met Matt D. Halen in the bike lane on Mountain Avenue last week.
Halen was returning home from a grocery trip and had gotten three flats. He was out of tubes and patches.
I didn't have a tube that would work in his tire so I offered him a ride home. We put his groceries in my Xtracycle bags and he sat on the deck and carried his bike. We were quite the sight.
Halen bought his bike off Craigslist and said he didn't think he would ever see another Litespeed that fit him, so he bought it.
Halen has ridden more than 40,000 miles in the last 7 years. Many of those miles were on the Litespeed, but a lot of them were also on a rickshaw, which he has been doing for a little over a year in Tucson.
He likes rickshawing because he gets paid to ride a bike and meet new people.
One of his most memorable moments as a rickshaw driver was when he picked up a woman dressed in an seven-foot-tall owl costume.
He says his favorite thing about riding in Tucson is the heat. He hates the snow and ice and prefers Tucson's weather over the cold.
His least favorite thing is the glass and debris in the streets that caused three flats and required a bike rescue.