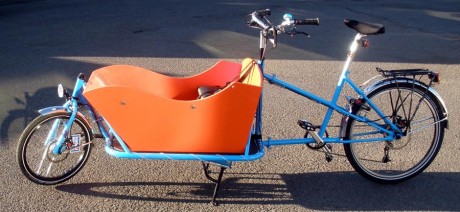 For those of you who have been reading the site for a while, you know that no matter what kind of cycling it is, I can get behind it. Road racing? Absolutely. Mountain biking? Dig it. Fitness? Been there.
But what really gets me excited are the everyday trips that can replace car trips and require hauling stuff on our bikes. It's even better when I share those types of rides with my family. (If you love cargo bikes, check out the new group I formed a with a friend about Tucson cargo bikes.)
We've been using our two Xtracycles to accomplish those rides and they have served us quite well. We are, however, going to kick it up a notch.
We've ordered a CETMA Cargo bike from Lane Kagay of Eugene, Ore. We ordered the Largo, which is the larger of the two versions he makes.
Several things led us to buy the CETMA, which is similar to a Dutch style Bakfiets.
Kagay's bike has an integrated platform, mounts for a cargo box, which we'll be adding and can be separated in two for shipping and storage.
We've liked the idea of having Luci ride in front so that we could see her and the deal was sealed when she went for a ride in a friend's Bakfiets and absolutely adored it.
We strongly considered having a local builder construct the frame, but ultimately decided to go with CETMA because Kagay has been perfecting his design for some time. His bike was recently featured in a cargo bike section of Bicycling Magazine.
I asked Kagay some questions about his bikes and business, which started with building heavy duty front racks. Check it out:
How did you get into bike building? Did it start with the racks?
I guess it sort of began because of the racks.  At the time, I was building my racks in a small shed in my backyard.  Every day I'd be back there welding and assembling and finishing, and at the end of each day I'd take the finished racks, box them up, strap them to my bike rack, and pedal them down to UPS to ship. That method worked fine until demand quadrupled almost overnight. In no time I found myself without a means to carry all these boxes to the UPS place.  Sometimes I'd load up with as many boxes as possible, drop them off at UPS, and then return home and make a second run. That got old pretty quick.
Since I didn't have or want a car, a cargo bike was the natural answer. I'd been interested in cargo bikes for a long time, and had a very simple plan in mind for building my own, so one weekend I began sawing apart an old mountain bike and built my first cargo bike.  I used that bike to run errands, get groceries and of course deliver boxes to UPS. It was instantly clear that this type of vehicle was an absolute perfect midway point between my utility bike and a motor vehicle.
How long have you been building racks?
Five years.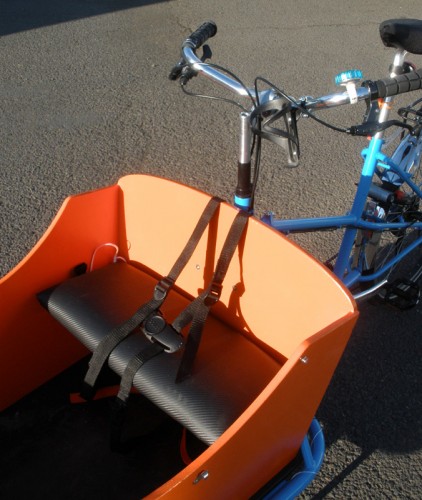 When did you start building the cargo bike frames?
So I'd built my first cargo bike and one day a friend named Mike Gould came over and we were talking on my back porch about bikes and things. The conversation moved toward cargo bikes and I explained how I'd been developing some ideas and would love to refine the approach some. Making a cargo bike with a flatbed platform instead of a traditional box was one key goal, another being that it absolutely had to be indestructible, even if that meant building it like a tank.  My background comes from bike messenger work, so I wanted this cargo bike to be something I'd be confident using for such a demanding job. It had to be built to withstand the Apocalypse or whatever. So we talked for a while and then he began explaining his engineering background and previous work developing freight bikes for an organization some years before. He agreed to put his background to use and help me develop my idea. This was a few years ago. Soon after, we had a prototype.
Why did you start building the cargo frames?
Well as I said, the first one came from a personal need to move things. I didn't have or want a car, so this type of bicycle was a perfect solution. When the prototype was built, I submitted pictures to an online bike forum and the feedback was very positive. It immediately became apparent that this particular bike would be worthy of producing long-term, just like the racks I'd been making.
How many bikes have you made?
Thirty. Six more in line.
What have you learned about building cargo bikes?
The most significant things I've learned have little to do with building the actual bikes and more to do with building an efficient operation. The actual assembly and process for putting the bikes together is pretty straightforward, but streamlining the production into a smooth-running system has been most eye-opening to me. Making parts in batches, diligently keeping records of everything, and developing a sensible system for maintaining inventory — this kind of stuff has been a great learning experience for me. These principles have bled into my rack-production system and even personal life.
You were recently featured in bicycling magazine. Have you noticed more interest since them?
Yes. It's very exciting and strange. The feature in Bicycling Magazine validated my cargo bikes but also I think gave the impression that I'm running some big factory or something. I get resumes in the mail now. NOW my mom understands what I do.
Anything else you want to add?
I'm happy with how things are going and grateful to have my work appreciated.
Here are a couple video of the bikes in action:
We are looking forward to getting the bike. Kagay said he should be starting our bike later this week. We haven't yet decided on a color, but will do that soon. I've acquired all the parts for the bike and am ready to build it once it arrives.
I'll be using an Alfine 8 speed internal gear hub and an Alfine generator hub in the front. I went with Sun Ryhnolyte rims and Schwalbe Marathon tires. I'm going to use a city style handlebar I have had laying around. I went with hydraulic disc brakes and am trying out Velo Orange sprung saddle instead of a Brooks.
I can't wait to get it out on the road.