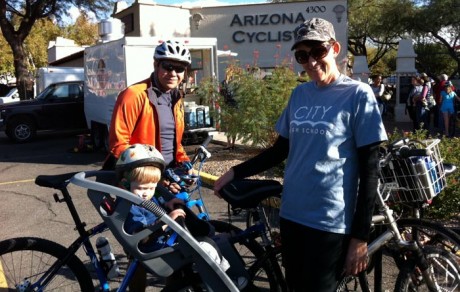 Friends Alicia Griffith and Matthew Arellano ran into each on the Rillito River bike path Sunday. Alicia was riding with her two-year-old son, Sebastian.
Commuting to work is too far for Alicia to do by bike, but she says she always carpools with co-workers. She uses her bike for short trips including picking up Sebastian from preschool every day. She especially enjoys riding with him this time of year because the weather is so pleasant.
Matthew says he primarily rides his bike on the path system to get some exercise. He'd like to see more of the paths connected from Oro Valley to the Rillito.
Alicia says if she could do anything to improve cycling in Tucson, she would change the attitude of the average motorist. She says many motorists aren't safe and have a bad attitude toward cyclists.
She knows three people who have been hit in the last few months, all are ok, but she says it illustrates that Tucson is not a safe place to ride bikes.