Editor's note: This is one of several posts about the 2011 El Tour de Tucson. Check out stories about how the celebrity cyclists fared, a map of where all 6,000 cyclist call home, a post about the Cargo Bike El Tour de Tucson, an editorial, a searchable database of results.
Back when I ordered the CETMA cargo bike in May, I joked that I was going to ride it in El Tour de Tucson.
That joke became reality on Saturday when I rode the 42 mile version of El Tour de Tucson on a bakfiets. And I wasn't alone.
I was joined by friends Art Gillespie, who rode a Big Dummy and Mike McCambridge on a mountain bike with a BOB trailer.
We were quite the spectacle. In addition to the weight of the bakfiets, I also brought along a cooler which  — yes, did have beer in it to answer the question I was asked probably over 100 times on Saturday. When we got to the finish line, the three of us toasted ourselves.
I also brought along 10 pounds of photographic equipment.
About 5 miles from the finish line, we added some more weight when we picked up our daughters and finished the ride with them.
People have been asking how it went. It was not nearly as hard as I thought it would be.
We finished together in 4 hours, 10 minutes, but we spent a lot of time at the aid stations taking photographs and messing with the video camera. We ran into my sister-in-law and waited with her to help her get through some of the course.
If we had pushed it, we could have finished in three and a half hours, but it would not have been nearly as much fun. Art and Mike could have finished much faster. I was clearly the slowest of the three.
Going up and over Rattlesnake pass was hard, but not insane. I didn't have to walk.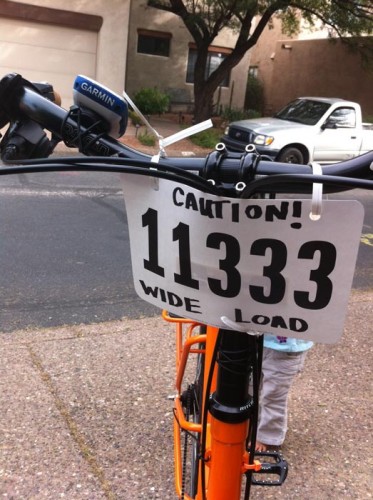 Lots of people commented on the bakfiets. Most asked about the beer. Some asked about the weight and the steering. Some just shook their heads and grunted as I passed them.
A lot of spectators pointed and clapped or rang their cow bells. The fun part is that I got to return the favor by ringing my bell right back.
One of the highlights of the ride was getting into a little mini pace line with NBA Hall of Famer Bill Walton. He'd pull for a bit and then I'd pull him for a bit. I think we were the only people who could provide a draft for the other.
Finishing with our kids was an absolute blast. The cheers from the people watching were great. I stood around for an hour afterward and no one else garnered such a reception.
After dinner, Luci and I loaded up the bakfiets and rode home from the finish of the ride.
We sent updates from the ride via Twitter and I've posted them below:
Also check out the GPS and details from the ride and the video I created.
In the end, it was a blast. Maybe next year I'll try the whole 111 miles.