Editor's note: I've received a lot of feedback that people enjoy the Rider of the Week feature, but I felt like they were buried by publishing them on the weekend. From now on, I'll publish a new Rider of the Week every Monday.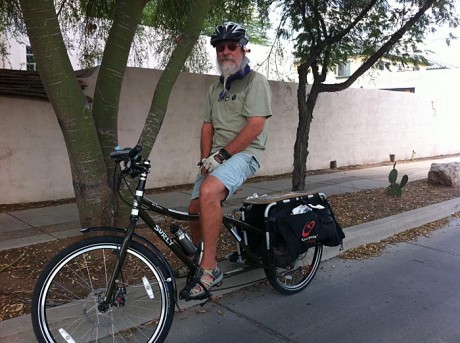 Rod Frable has been riding in Tucson since 1971 when he moved here from Sierra Vista and began using a bike as his primary means of transportation.
During his time here in Tucson he has raced for Andy Gilmour's team as well as Pima Community College's team in the late 70s.
Over the years he has collected 11 bikes, but says he is usually riding an Xtracycle, which he credits with saving his life during his one and only crash in 2009.
He has since upgraded to a Surly Big Dummy and uses it for everything.
Last week he was at the feed store picking up hundreds of pounds of food for his chickens, dogs and birds. He says the people at the feed store get a kick out of seeing him loading it all up on his bike.
He said his favorite thing about riding in Tucson is riding in Tucson.
But he says, Tucson can do a lot better.
"Not that it is bad, bad, but it's not great," he says.
He says the routes around Tucson need to be more like Mountain Avenue and he always avoids riding on streets like Broadway, Speedway and Grant.