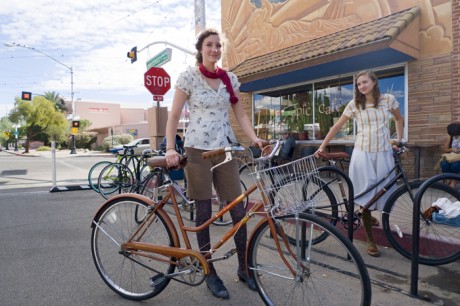 Twin sisters Katie Kindelan (top) and Sarah Kindelan-Crawford rode their bikes to Fourth Avenue and planned on checking out the shops.
Sarah was is town from Memphis Tennessee visiting Katie who is a graduate student studying art education.
Until about two weeks ago, Katie was riding her Orange Huffy Sea Pines, which she says "sings and not in a good way," when she rides it. She says only one brake and one gear actually work.
Katie decided to upgrade her bike, but had a hard time finding a new bike with a step-through frame.
"The cool bikes aren't made for ladies," she says.
She says she really likes her new MASI Soulville Mixte, which has an internal gear hub and fenders. She is planning to add a rear rack to haul things.
Katie kept the Huffy for guests (like Sarah) to ride.
Her bike is her only mode of transportation. She had a car in Memphis, but chose not to bring it with her.
"I wanted to keep my world small," she says. "I didn't want to pass Walgreens. It seems like when you are in a car, you are always passing Walgreens. When I ride my bike, I never pass them."
Sarah says not very many people ride bikes in Memphis.
Katie says Tucson is pretty favorable to riding bikes because it is flat, but a lot of the roads are pretty rough. She says she has been hit once while riding in Tucson.
Ironically, she says, it was a University of Arizona Safe Ride van that hit her.
She says the crash made her more of a nervous bike rider, but she says she is also a nervous driver too. Despite the crash, she says she really enjoys living without a car and can always borrow one if she really needs it.