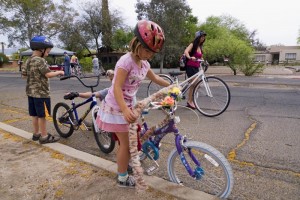 If you are planning on attending Cyclovia Tucson on March 27, you should come prepared to strike a pose.
Come pose with your bike and your family. Or your recumbent and your potbellied dog. Or your unicycle, tweed fedora and carne asada burrito at our Cyclovia photo booth.
TucsonVelo.com is teaming up with local photographer and cyclist, Chris Hinkle, of Chris Hinkle Photography to offer everyone a chance to capture a moment from this year's Cyclovia Tucson.
Chris and I will set up a tent at Santa Rosa park near Meyer Avenue and 20th Street. You and your your friends will be able to wheel your bikes, scooters and strollers into the tent. Chris will spend a few minutes with everyone, taking some great images.
Then, on Monday you can check TucsonVelo.com to see the photos from your photo booth session and check out all the other images.
Love your picture? Chris will offer high resolution images for a dollar or two and prints if you want to get bigger versions.
Cyclovia Tucson starts at 10 a.m. and ends at 3 p.m. Check out this post for more info about the event.
I need five volunteers for an hour each to help direct people into and out of the tent and hand out stickers. If you are interested, please email me at tucsonvelo@gmail.com
Chris was the photographer who shot the Bicycling Magazine feature on Tucsonan Thomas Jondall. Check it out below: