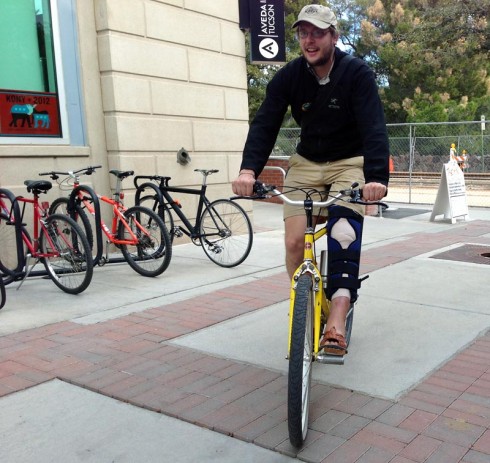 Meet Murphy Woodhouse, a University of Arizona graduate student in journalism and dedicated bicyclist.
Several weeks ago Woodhouse fell and broke his leg while mountain biking in Sweetwater. As it turns out the break was "the good kind" of break and meant he would heal fairly quickly. It did require he wear a brace that prevented him from bending his knee.
That didn't stop him from riding his bike, though.
Instead, Woodhouse went to BICAS, removed his left crank and added a foot peg and board to act as a platform for his foot.
Woodhouse said there was no way he wasn't going to find a way to ride his bike. He said he'd go crazy if he couldn't ride. He used this setup for several weeks to get around to almost everywhere he needed to go. That's dedication.
In the last few days Woodhouse's brace was removed and he is, once again, riding with both legs.