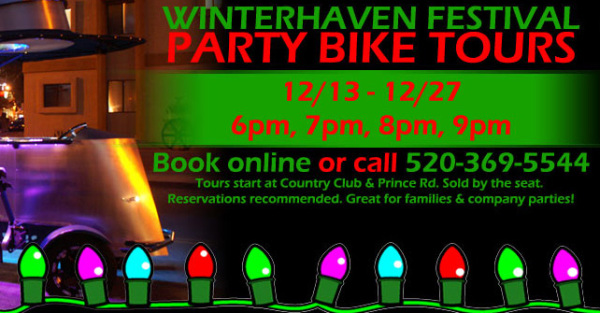 If you are bummed about the cancellation of the Winterhaven Bike Ride, Arizona Party Bike is coming to the rescue.
Robert Mayer the owner of the Arizona Party Bike is offering up to 45 free rides on the party bike starting tonight at 8 p.m. for cyclist who still want to pedal through Winterhaven with a little added rain protection.
Their party bikes have canopies to keep the rain off.
If you want to take advantage of their generous offer, head on over to their website and book a slot on the 8:00, 8:05 and 8:10 start times. Use the code BICYCLETUCSON when you checkout and the price will be reduced to zero.
All Mayer is asking for is that people tip the drivers and have a fun night.