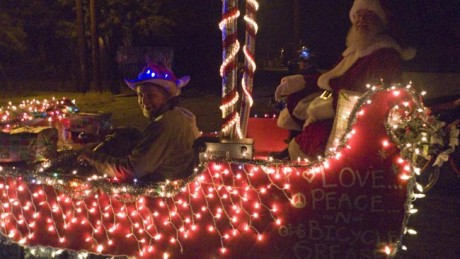 Check out the video and images from the 2010 Parade of Lights.
According to Kylie Walzak of BICAS, this was the fifth year BICAS had participated in the parade.
She said BICAS approached the downtown group who puts on the parade after a BICAS employee took her brother's children to the parade. At the time, Santa was being driven around in an army tank, which scared many of the children.
BICAS asked if they could transport Santa in a bike-powered sleigh and have been doing it ever since.
The sleigh maneuvers easily from side to side and can get close to the children without scaring them. Many kids got high fives from Santa.
The parade was one of the top-five best things I've done on a bike. I rode with my daughter and tons of people shouted, "Look at the baby!"
Luci had a blast waving at the kids and seeing all the lights. I hope this is the start of a tradition.
Enjoy the video and photos. Happy Holidays.