Cyclists will have to make some difficult decisions when determining how to spend their time this weekend.
Five cycling events will take place this weekend.
On Saturday from 9-11 a.m., the Kiwanis Club is hosting the Tour de Campus event, which is geared toward children aged 3-6.
Here's a description of the event:
The Kiwanis Club – Sunshine Chapter  with help from the Tucson Police Department is hosting El Tour de Campus again this year.  Meet up on The University of Arizona Mall from 9am-11am for a fun-filled morning! All registrants will receive a water bottle and t-shirt in addition to goodies handed out at each station. Come out an learn about bicycle safety in the desert, a bike obstacle course, bike maintenance, decorate your bike and of course get your helmet fitted! Parade your bike along the Mall at the end!
Saturday night from 6-9 p.m. cyclists can take in the New Belgium Brewery's "Clips" films.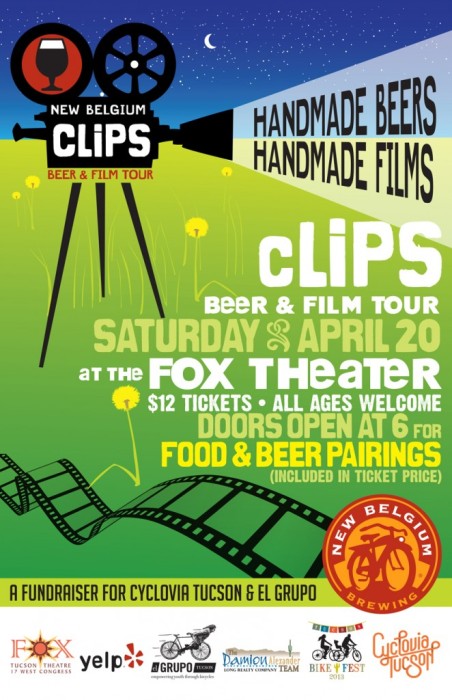 Mark your calendars early for a special screening of the Best Beer and Film Festival April 20th at the Fox Theater. Doors open at 6 for food and beer pairings!!

New Belgium Brewing, maker of Fat Tire Amber Ale and a wide variety of award- winning beers, is once again bringing its beer-toting, film-traveling, nonprofit-benefiting show for a special screening! "Clips" is a national beer and film festival where guests can try beers from New Belgium's Lips of Faith series, along with some popular classics, and screen short films made by New Belgium fans. Come early to try perfectly paired bites from 1702, Union Public House, Renee's Organic Oven. And Zona78 and sip the beers. (Included in ticket price)

The proceeds benefit 2 local nonprofits, Cyclovia Tucson and El Grupo, these groups are working hard to improve our community. Additional fun includes the VelociPrints art show. This year marks the fourth season for Clips, which has raised more than $200,000 for nonprofits nationwide.

For more information visit: https://www.facebook.com/NBBSouthernAZ#!/events/541394435904958/
Three events are on tap for Sunday.
The first is the El Grupo Scavenger hunt, which starts at 9 a.m.. You get all te details about the event here.
Additionally an Earth Day celebration is taking place from 9 a.m. – 2 p.m.. Here's the description:
In its 19th year, the Tucson Earth Day Festival and Parade with the theme Green Planet, Green Future is partnering with the 4th Annual Water Festival, presented by Tucson Arts Brigade, for this 2013 event.

Share your eco-friendly message for Earth Day at the Annual Tucson Earth Day Festival and Parade in combination with The Water Festival on Sunday, April 21, 2013. The event is from 9 a.m. to 2 p.m. at Reid Park, off Country Club Road north of 22nd Street. The Parade starts at 10 a.m.
 Lastly it's also Bike to the Zoo Day. Here are the details:
Ride your bicycle to Reid Park Zoo and show your helmet to get FREE admission and FREE valet parking inside the zoo.  GABA will have rides starting from various locations around Tucson, in varying distances and speeds.  You decide which level and distance you want to pedal, and start with the group that most closely matches your cycling preference. All rides will converge at the zoo between 9 AM and 12 PM. Upon arrival at the zoo, stop at the GABA table with your helmet which will be set up inside of the entrance to get your ice cream cone/cup voucher (limited to the first 300 cyclists). Free valet bike parking will be available, through the GABA, inside the Reid Park Zoo for everyone who rides. Bike parking offered 9 AM to 3:30 PM.  Visit www.bikegaba.org for more information.