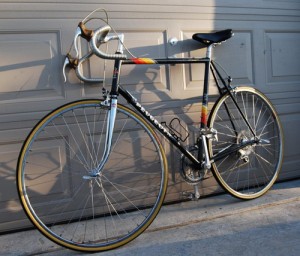 I received an email from a reader today about his stolen bike. Here are the details:
It was stolen today (May 13), during the day, from the east side of the AME building at the U of A. It is a Peugeot (1985, I think). It is mostly the same bike as the attachment except the handlebars; I had straight handlebars with white cork/tape. Also, yellow bottle cage and brand new (as in, I bought yesterday) red-black cst tires. Please feel free to share my email address: guven@email.arizona.edu
Keep an eye out for this bike.