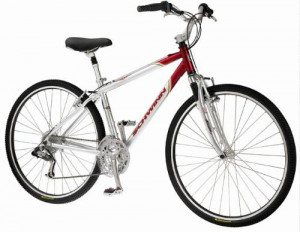 It's always nice to hear stories about stolen bikes being recovered, but unfortunately it doesn't happen often.
I was really pleased to hear from John, a Tucson Velo reader, whose stolen commuter bike was recovered last week.
John filled out the stolen bike form on the site. His bike was stolen downtown and he even had a description of the thief. He also filed a police report with the Tucson Police Department.
He received a phone call from a detective saying they had located his bike at a pawn shop. The Tucson Police Department collects information from pawn shops and adds it to a database.
Apparently the suspected thief was arrested and the police department began searching the pawn shop database for items pawned by him. John's bike popped up in the system and he was notified.
The detective said, however, that the police would have to keep the bike until after the trial.
John said in his email that people should report their stolen bikes to the police department because you may be one of the lucky people who get their bikes back.
It is also important to report stolen bikes to the authorities so that they realize it is a bigger problem than they believe.
I've been asked to speak to beginning journalists as an expert in Tucson bicycling for stories they were working on about stolen bikes around the University of Arizona campus. They are often told by the UAPD that it isn't a big problem. In each of the classes, I've asked if any of the students have had their bikes stolen. Several students will always raise their hands.
When I ask how many of them reported their bikes stolen to the police department, almost all of them lower their hands. They say they don't report them because they figure it is futile and their bikes weren't worth much.
I have a feeling that stolen bicycles are a very under-reported crime in Tucson.
In any event, I'm glad John got his bike back. He said since he won't get his commuter bike back until after the trial, he is going to buy a used bike from BICAS.
"Maybe the bike thieves in town won't be interested in stealing an old rusty ten speed from me," he said.