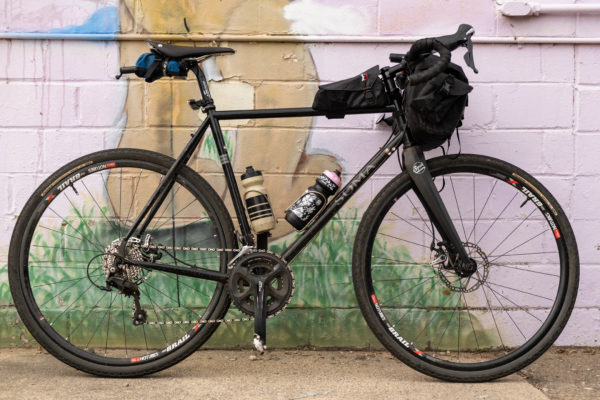 After some trial and error, my #EveryStreetTucson setup is feeling pretty dialed in.
I started with my Soma Double Cross, which I wrote about when I got it, but made a few significant changes.
First, I swapped out the 28C Gravel King tires I was riding for a pair of 38c Gravel Kings and converted to tubeless. The change was amazing. I didn't lose much speed and gained a massive amount of comfort.
Next I swapped out the narrow road bars for a much wider PNW Coast bars.
The new bars allow me to use a wider handlebar bag. My bar bag is the Swift Industries Zeitgeist. I also added a Revelate Designs MagTank bag to hold my phone and keys. Having everything up front makes it easier to quickly grab my camera to snap a photo or my phone to zoom in on my Wandrer map to make sure I am hitting the streets I need to hit.
Here's what I'm taking on each ride: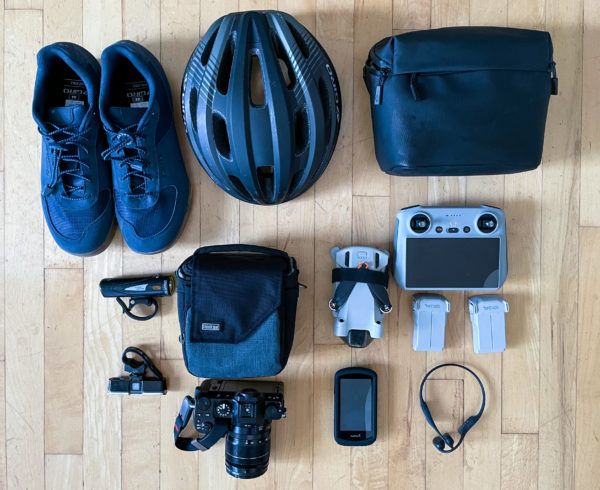 I'm riding with SPD pedals, but swapped my mountain bike shoes for an easier to walk in pair of Giro Rumble VR shoes.
Lights and helmet
DJI Mini Pro 3 with extra batteries, remote and bag
FujiFilm X-S10 with 18-55 lens
Think Tank camera bag (this bag has a magnetic clasp, which makes getting the camera in and out very easy)
Garmin 1030 with my Wandrer map loaded to see what roads I've not yet ridden
Skokz bone conducting headphones to listen to podcasts while keeping my ears unobstructed
I also recently added a small Cateye handlebar mirror to see the cars coming up behind me.
Finally a basic tool bag