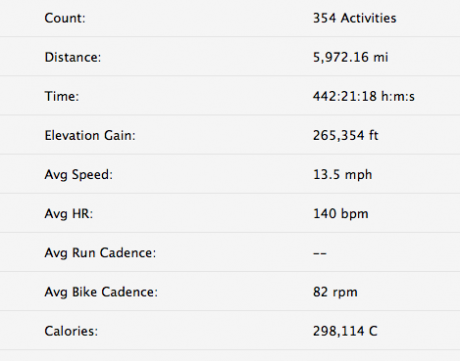 I'm a numbers nerd. I like to know how far and how fast I went and where I've been.
I use a GPS device to track every ride I take. I've missed a couple, but for the most part, the image above takes into account every ride in 2010.The cadence and heart rate aren't totally accurate as I only track those two on my road bike.
I just missed my goal of 6,000 miles and could have made it if it weren't for a few hiccups here and there. At least now I don't have to change my yearly goal to 6,500 now.
What I think is cooler is the ride time. The 442 hours on a bike is actually 18 full days. Looking at it another way, I spent five percent of my year riding a bike.
The almost 300,000 calories burned isn't too bad either.
What about you? Do you care about your yearly numbers or do you prefer to not keep track? If you do track them, how many miles did you ride? What is your goal for 2011?