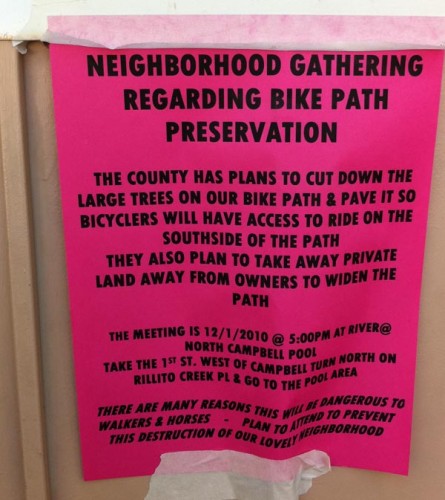 This sign popped up along the south bank of the Rillito River path between Mountain Avenue and Campbell Avenue.
A story on Tucson Velo documented the county's plan and the neighborhoods' objections to the proposed improvement. The plan would pave the portion of the Rillito between Mountain and Campbell, which would allow cyclists to cross the Rillito at the Mountain Avenue pedestrian bridge instead of the more dangerous Campbell Avenue bridge.
The meeting organizers are trying to gather opposition to the plan to prevent the county from proceeding. The meeting will be attended by Nanette Slusser, the assistant county administrator, and someone from Pima County Supervisor Sharon Bronson's office.
Cyclists are being encouraged to attend to the meeting and voice their support for the project.
If you can't attend, you can also send support letters to Sharon Bronson's office at district3@pima.gov.
The meeting will be held at the community pool at 5 p.m. Click here for directions to Rillito Creek Pl.
Editor's note: This is my neighborhood and I will be attending the meeting as a resident to voice my support for the project.