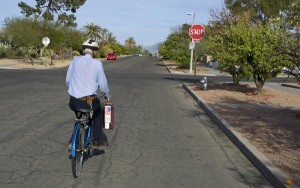 The Arizona Daily Star published a story this morning using Bike-to-Work Week to highlight the percentage of people who commute by bicycle.
Here is an excerpt from the article:
Hundreds of Tucson commuters are stopping at 30 businesses on their way to work this week for a wide range of freebies, taking advantage of what's become an annual ritual: Bike to Work Week.

But the organizers of that and a flood of other bike-related events this time of year are confronting a disappointing statistic. Bike commuting has stagnated here over the past decade, U.S. census figures show. That's despite Tucson's growing national reputation as a bicyclist's haven and a general local-government policy of painting bike lanes on every new, widened or resurfaced roadway.

But census figures show that only about 4,500 people, or 1.9 percent of all Tucson commuters, bicycled to work in 2009, the most recent year for which such data are available. In 2000, 2.2 percent of all Tucson commuters biked to work. That's not a statistically significant decline, but Tucson's rate also slipped compared to other cities.

The 2000 census put Tucson first nationally in percentage of work trips by bicycle, ahead of such urban meccas as Portland, Minneapolis, Seattle and San Francisco. Those and seven other cities passed Tucson in that category in the past decade, dropping this city to 12th.

In the same period, Pima County-area governments doubled the number of bike lanes and other biking facilities to a current total of 956.3 miles. That includes striped bike lanes on roads, bike routes on roads without striped lanes, and bike paths located off-road. Of those bike facilities, more than two-thirds, or about 698 miles, are conventional striped bike lanes on road shoulders. Off-road, bike-pedestrian paths, by contrast, account for 148.2 miles.
It's hard to put a value on the region's bicycle infrastructure based solely on bicycle commuters since the cycling here is largely recreational.
The other challenge in calculating the number of bicycle commuters is that many of our residents are transient because they winter here or are students at the University of Arizona.
There is no doubt that we aren't adding as many bicycle commuters as other cities. Many people in Tucson are calling for low-stress bikeways like bike boulevards to increase the number of commuters in Tucson. Others have said more needs to be done educating and encouraging people to get out of their cars and on to bikes.
What say you? What will get more people on the road?