About 80 cyclists attended a pancake and bagel breakfast at There and Back Bikes Wednesday morning. There and Back owner Steve Vihel has been hosting his own breakfasts every month, but said he had four times as many people attend this morning than he has at any of the other breakfasts.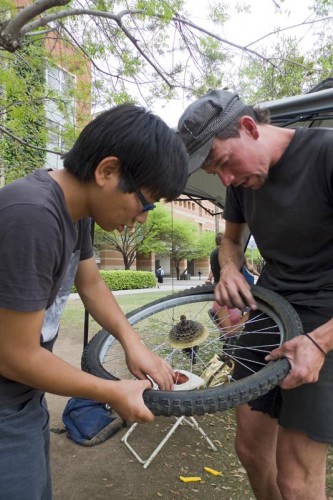 The University of Arizona hosted their own event today. Various groups including, BICAS, Trek Bicycles of Tucson and UA groups handed out information and performed basic tune-ups for cyclists.
The last big event of the day was a happy hour at Spoke 6, a co working office near downtown. Organizers offered cyclists snacks and drinks.
Check out the gallery below to see more images from the events.
Friday marks the end of Bike-to-Work week with a breakfast for commuters from 7-9 a.m. on the Maynard's Market patio in downtown Tucson.
Tom Thivener, the city's bicycle and pedestrian program manager, said breakfast will be served at 7 a.m. and includes breakfast tacos, coffee and juice.
At 7:45 a.m. the winners of the bicycle advocates and commuters of year will be announced.
There will also be live music, basic tuneups and Bike-to-Work Week swag for the first 200 cyclists.
Maynards Market is located at 400 N. Toole Avenue.
Chuck Huckelberry will be hosting a ride to the celebration from Juhan Park located just north of Grant Road on the west side of the Santa Cruz at the north end of North Huachuca Drive. They will leave at 7 a.m. and cruise downtown to Maynard's Market.