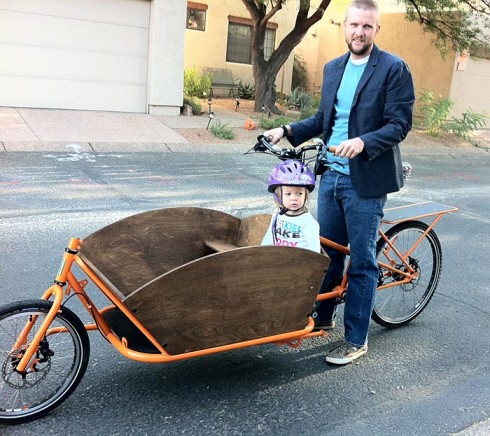 When Luci was born we never imagined we would tote her around on bicycles so much. In fact there is a video somewhere on the internet in which we suggest it isn't all that likely we would ride with her a lot.
Almost three years later and she takes more trips on a bike than she does in a car. The summer makes it much more difficult, however.
I've been getting a lot of questions about how to ride with kids lately and there isn't one right way to do it. A lot of it depends on how far the riders are going, what their budget is and the ages of the kids.
We've been through three different child-toting setups since we started riding with Luci when she turned six-months old. We've got a second child on the way and hope to start riding with him even earlier.
I should mention that most medical professionals do not recommend riding with children before they turn one. I suggest you and your family take the time to fully research the dangers and benefits to ensure riding with children is right for your family.
HELMETS
The first thing we looked for was a helmet. This was actually one of the hardest things to get because Luci had a smaller head. We did a lot of research and the smallest helmet commercially available in the United States is the Specialized Small Fry, which is four centimeters smaller than other helmets, but had an adjustable design which allows for it to get bigger as your child grows. Luci has been wearing this same helmet for two years.
The helmet can actually pose a problem with some setups. In a trailer, the helmet can actually push the child's head forward.
BIKE SEATS
Bike seats on regular sized bikes are the one setup we have limited experience with. They are probably the most common and the least expensive option. Yepp, a Dutch company has made their way into the United States and are making some really great seats that go both behind and in front of the rider. You can see examples of them here. There are some less expensive options than the Yepp, but aren't designed quite as well.
With child seats you want to ensure your child's neck is strong enough to support the helmet while riding. I also recommend a good double kickstand so that the bike is less likely to tip over while loading your child into it. Another drawback is that if you fall over, the child will also fall over.
TRAILERS
The first time we rode with Luci was in a trailer. Like I said, she was six-months-old and not ready to sit up in a seat. Trailers  create a similar problem for small children. There is little support so unless they can easily sit up on their own, they will slump over in a trailer. We solved that by purchasing a Burley Snuggler to go along with our Burley Trailer (Amazon link
)
Chariot trailers make something similar, while I do not have experience with it, I imagine it does the same thing.
The Snuggler basically acts as a cradle for the kids and offers them the support that the regular trailer does not.
Both Burley and Charriot trailers are generally considered the best out there. Again cheaper alternatives exist, but I have no experience with their quality or safety.
The drawback to a trailer is that your child is farther away from you and low to the ground. You can't hear or touch your child and being low makes it harder for motorists to see you have a kid with you.
A good trailer can range from $300 to $500. We found ours on Craigslist for $300 and it was in pristine shape.
LONGTAILS
When Luci was nine-months-old, we switched to a Surly Big Dummy, which is based off of Xtracycle's Free Radical system. A longtail basically moves the rear wheel of the bike backward providing a longer back end of the bike for cargo and kid hauling.
To the Big Dummy we added Xtracycle's PeaPod LT, which has since been replaced with a Yepp seat that works with the Xtracycles. This setup worked really well. It kept her close to me so that I could touch her, but not so close her face was smashed into my back. It also provided lots of room for toys and diaper bags for various excursions or room for four grocery bags.
When the kids get older, you can add a handle bar to the rider's seat post and let the older child have his or her own handle bars to hold onto as opposed to sitting in the seat.
Xtracycle sells a conversion kit that allows you to take an existing bicycle and turn it into a longtail. I suggest using a steel mountain bike for the conversion because they tend to be built more ruggedly and will be able to handle the additional weight and stress the conversion kit adds.
In addition to the Xtracycle, there is a Yuba Mundo, Kona Ute and Trek Transport all of which are longtails, but don't seem to be set up to work quite as well for hauling younger kids. Once they are big enough to hold on themselves it doesn't matter as much.
Prices range from about $500 for the Xtracycle Conversion kit to $2,000 for the Big Dummy.
BOX BIKES
Admitting you a have a problem is the first step in getting help for an addition, right? Well I have a problem. I really like bikes. When Irene and I started thinking about having a second child, I saw an opportunity to get a new bike.
Having sold our second car, bicycle transportation has become an important part of our daily travels and it's important we can ride with him when Irene goes back to work.
A box bike — commonly called a bakfiets — filled the bill best. A bakfiets has a large, often wooden, box in front of the rider that has a bench and cargo area.
We purchased a CETMA Largo from Lane Kagay. We liked that it was made in United States and that we could work with him to make the bike exactly what we wanted.
We had a box built by a Larry Robinson, a local carpenter and bicyclist here in Tucson. The box is big enough to allow us to secure a carseat to the floor of the box allowing us to begin riding with him at an early age.
I really like being able to put him in an infant seat and being able to see him anytime I look down to make sure he is OK.
Once he is big enough he'll join Luci on the bench seat which has shoulder harnesses.
By far I feel the most comfortable riding with kids in the box bike. Being able to see them and feeling like they have a little more protection in the box makes me feel a little more comfortable.
Unfortunately, the price of box bikes can make it unrealistic for many people to afford. They range from $2,700 to $4,000.
It's important to remember that bikes like the Xtracycle and box bikes can be legitimate replacements for automobiles so when comparing them to the price of a car, it doesn't seem quite as crazy. Additionally they have high resale values for bicycles, which helps when you no longer need them.
In addition to the CETMA you can research Bakfiets.nl, Bullit Bikes and Gazelle, which are the leading box bikes.
This is by no means a complete list of ways to ride with kids, but should give you an idea of the benefits and drawbacks of each of the most popular child-hauling methods.
Do you have a different setup? Do you have another question? Leave a comment about it.