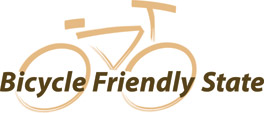 At a time when Tucson and Pima County officials are trying to obtain a platinum level bicycle friendly rating from the League of American Bicyclists, the state itself has dropped seven spots in the most recent rankings — continuing a trend of sliding down the rankings.
In 2008, Arizona was ranked third, in 2009 Arizona ranked seventh. The 2011 rankings, which were released last month, dropped Arizona to the No. 16 spot from No. 9.
The rankings were broken down into six categories including; Legislation, Policies & Programs, Infrastructure, Education & Encouragement, Evaluation & Planning and Enforcement.
According to the report, the LAB gave a grade of F in the Infrastructure and Evaluation & Planning. The best grades Arizona received were Bs in the Legislation and Education & Encouragement categories.
The top 10 are:
1. Washington
2. Maine
3. Wisconsin
4. Minnesota
5. New Jersey
6. Iowa
7. Florida
8. Oregon
9. Massachusetts
10. Maryland
The least friendly states?
40. Georgia
41. South Dakota
42. Nevada
43. Oklahoma
44. New Mexico
45. Nebraska
46. Montana
47. Alabama
48. Arkansas
49. North Dakota
50. West Virginia
What do you think? Is the rest of Arizona pulling Tucson down?
Download the full report here.