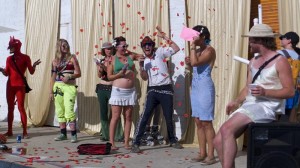 Hundreds of cyclists dressed in their Sunday finery or costumes rode through Tucson on Sunday, April 18, as part of the Tucson Bike Beautiful project.
The riders met on Fourth Avenue and paraded through Tucson streets before they stopped at BICAS for a party celebrating bikes and beauty.
Ride organizer and founder of Tucson Bike Beautiful, Neil Weismiller, was happy with the ride and its turnout.
The ride went excellent," Weismiller said. "It was beautiful. For me it was all about having a beauty contest I am just sorry it is already over. I thought it was great."
Reina Tineda was crowned the Tucson Bike Beautiful beauty queen.
Weismiller said he hopes he can do the event every year.
See more images from the Tucson Bike Beautiful party.