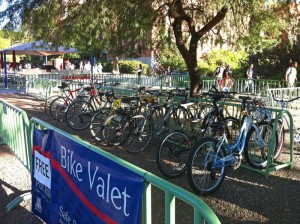 In a three-hour window last week there were more than 4,500 bicycles parked on the University of Arizona campus.
Those bicycles filled less than half of the roughly 11,500 total bicycle parking spaces provided by the UA.
The numbers come from Parking and Transportation employee Chloe Forsman's inventory and study of bicycle parking on campus.
Forsman said there was already some information about the number and location of bicycle racks on campus, but it needed to be updated and the department wanted to add data about shade and security around the racks.
According to the inventory, roughly 25 percent of the 11,500 spaces are shaded.
"In Tucson we kind of felt like shade was the most useful type of cover," Forsman said. "Obviously to be under a building overhang is beneficial from the rain, but that is kind of an infrequent occurrence in the desert."
The UA Planning, Design and Construction Department added her geocoded information to their maps, which will allow the school to more easily track where the campus' bike parking is located.
The second part of the project involved surveying the usage of every parking area on campus.
Forsman said she broke the campus into six areas and had volunteers spend the three hours between 11 a.m. and 2 p.m. last Wednesday and Thursday counting parked bicycles.
"I had done some preliminary counts and had identified that time as being the peak times," she said.
Forsman said the average for that time period over the two days was 4,861 bicycles. She said the number of bicycles represented about 9 percent of the estimated number of students and faculty on campus in a given day, but said some of the bikes were probably abandoned.
In addition to tracking the number if bikes, the usage rates were mapped so they could find out which areas were full and which areas have too many racks.
She said some of the central areas had usage rates from 80-95 percent, which can pose a problem.
"When you get that congestion in a bike rack, it becomes more difficult to lock your bike up and people are more likely to park at something that is not a bike rack," she said.
Forsman said she plans to continue the counts each year in order to compare the usage and gauge what the trends are. She said she also hopes the mapping of the racks combined with the usage rates will allow them to move racks around to better fulfill the needs of bicyclists.
She also said the data is critical in showing the importance of bicycling on campus.
"We know there is a lot of biking happening on campus, but we don't really have data over time to help justify investment in bicycling," she said.