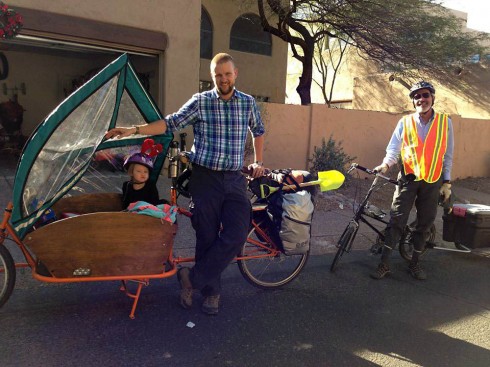 Last Friday Luci and I ventured out on our first S24O to Catalina State Park.
We were joined by my friend and Tucson Velo contributor, Jay Rochlin.
We left from our house near Mountain and the Rillito River path at about 1:30 p.m. We took Via Entrada over to First Avenue. North on First Avenue to Ina and finally Oracle north to Catalina State Park. It turned out to be just over 28 miles roundtrip and included about 1,000 feet of climbing. It took about an hour and a half to make it up to Catalina State Park.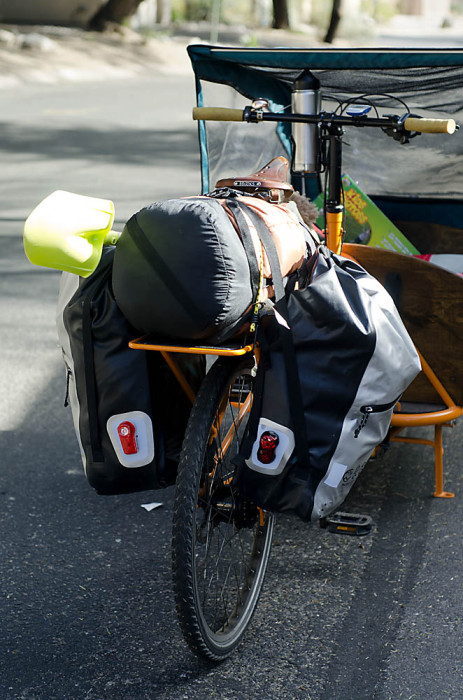 Here's the updated list of items we took:
Gear 
Extra Blanket
Cooking Pots
Utensils
Flat plate/bowls
Cooler
Luci's camp chair
Head Lamps
Clothes
Pajamas, jackets, beanies and etc…
Food
Tortillas
PB
Jelly
Bacon
Eggs
Beans
Cheese
Snacks
Hot Chocolate
Tea
Marshmallows
Water
Misc & Electronics
Books
Beary and Roary (Luci's stuffed animals)
First aid kit 
Duct tape 
Whiskey 
Soccer ball 
Ring toss game 
Duraflame fire log
We ended up taking a lot of gear and I felt like it was too much, but I also had to remember it was gear for two people and food for three since I was bringing the food for Jay too.
I still brought too much food. We came back with enough food to have eaten for a day or two. We also brought too much clothing. Much of it didn't get worn and was just extra weight.
I am really glad I brought the quilt in addition to Luci's sleeping bag. She still isn't entirely comfortable sleeping in her bag and the quilt came in handy for keeping her warm.
I didn't weigh the gear, but it was probably in the 40-50 pound range. Cutting the clothes and food would help lower that. We got some use out of everything else.
The fire log was nice to have for roasting marshmallows, but next time I would buy it at a store closer to the campground rather than lug it all the way up.
The weight made the ride up there tiring. the 40 pounds of gear coupled with a 30-pound girl, and a 70-pound bike makes for a pretty heavy load.
We got the steepest part of the ride out of the way early on Via Entrada and the rest of it was pretty mild comparatively.
Once we arrived at the campsite, we pitched the tents and set up camp. Two curious bicyclists quickly rode up to ask about the bikes we were riding and whether we were touring. It turns out they were car camping but use their bikes to get around when they hit a campsite.
We rode over to a trailhead and took a short hike before heading back to camp and fixing bean burritos for dinner.
As it turns out, it was the solstice, so the sun went down quickly and we called it a night pretty early. Luci and I read and told stories until she finally fell asleep.
My biggest concern for the whole trip was the cold. We picked Friday because it was one of the most mild days during December, but it still got down to about 40 degrees.
Luci's sleeping bag is rated for 30 degrees, but she wasn't all that interested in using it. The quilt I brought was thick and made by my grandmother years ago. It helped, but I think she was a little cold. She woke up in the middle of the night and seemed cold so I had her put on her jacket and a hat. She seemed warm enough for the rest of the night.
One of the highlights for Luci was being woken up in the middle of the night by a pack of Coyotes who were calling to each other.
I didn't sleep that well worrying about her being cold and trying to get comfortable myself.
Once it was morning, we got up and cooked bacon breakfast burritos, drank coffee and packed up camp.
We were planning on one more hike so we went back to the trailhead, but as it turns out the park rangers were hosting a demonstration with live snakes and gila monsters. We spent an hour or so checking out all the cool animals and then started for home.
The ride home took about an hour.
Overall it was a ton of fun and I am already trying to look for an opportunity to do another one. For the next one I'd like to head out to Gilbert Ray Campground on the backside of the Tucson Mountains.
I'd also like to switch to taking the Xtracycle instead of the CETMA. The CETMA has some major advantages including allowing Luci to sleep and some protection from the elements, but I'm not sure the added 35 pounds is worth the tradeoff.
I need to get a front rack to help carry the gear in order to make that possible.
If I were to do another tour on the CETMA, I'd certainly get some lower gears to make the hills less of a challenge.
What did I skip? What questions do you have?