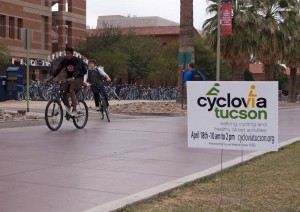 With 20 various bike-themed events and 33 local businesses hosting bike stations for the "Bike 2 Work Week," April's Bike Fest is shaping up to be one of the biggest.
The first Bike Fest event starts Sunday with a beginner bike ride around Downtown. Check the Bike Fest calendar for the start time and locations of all the Bike Fest events.
Monday marks the beginning of "Bike 2 Work Week", which Ordinary Bike Shop's owner David Tang says is a great event.
"It is good that the city has the bike to work to week because it really does encourage people during the nice weather to go out an ride a bike, Tang said.  "A lot of of people wouldn't otherwise."
Tang said he likes that the event can convert recreational riders into commuters and the community feel the event has.
Generally, I think it is a really good way to promote awareness and it is really community oriented which is what we are all about," Tang said.
Other major events include the GABA bike swap, Cyclovia Tucson, New Belgium Urban Assault ride and Tucson Bike Beautiful.
I am planning on attending as many of the events and commuter stations as possible. I won't be able to be everywhere, though. I'd love it if you were at an event if you could submit a few photos that I will include into the photo gallery I will create.
Lastly, ff you would like to meet me and chat about bikes or the site or anything else, I will have a table at the Downtown commuter station on Friday, April 9. Stop by and say hi.