Editor's note: This post was written by Colby Henley one of Tucson Velo's newest contributors. Henley is a daily bicycle commuter and advocate.
A new Jimmy John's restaurant opened a couple weeks ago on Campbell Ave in the former Bagelry location. The company did a major renovation, basically gutting the structure, blading the lot down to the dirt and repaving a new parking lot. Surprisingly, despite the City of Tucson's newly adopted parking ordinance, the new configuration didn't include a single bike rack. On two recent visits, I noticed bikes locked to a pole next to the telephone pole at the edge of the parking lot, showing that there certainly is a demand for bicycle parking at that location.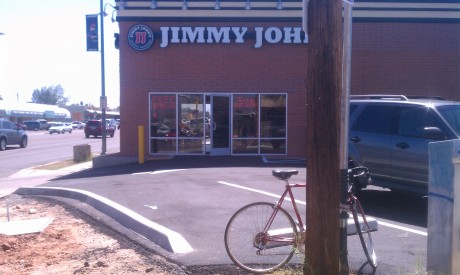 I contacted Tucson Bicycle and Pedestrian Program Coordinator Tom Thivener to ask why the new parking ordinance didn't apply. He checked with the Tucson Development Services Department who informed him that the renovations were permitted as a tenant improvement interior remodel and, because there was no increase in building square footage, the parking ordinance did not apply.
So, following Michael's success with Trader Joe's, I wrote an email to the store manager explaining the benefits of bicyclists for local businesses and the opportunities for that location adjacent the planned Bike Boulevard on Copper Street. I got a reply the same day from the manager saying that he agreed that bike parking would be a great addition and that he would talk to the owner and Tom Thivener about a plan to get them installed.
That's a great start…I'll keep checking to see when it happens.