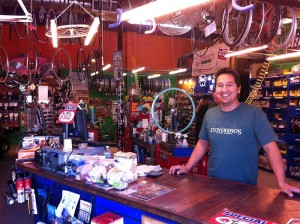 Ordinary Bike Shop, a Tucson Velo sponsor, has joined the short list of League of American Bicyclist certified Bicycle Friendly Businesses.
The LAB awarded the shop a bronze level award, something Ordinary's owner David Tang hopes to increase the next time he applies.
He said many of the questions were geared toward office buildings and not bike shops. They ask whether you have an on-site shower and bike lockers.
He said the whole shop acts as a bike locker and he has an agreement with a neighboring building to allow employees to use their showers if they want to, but neither counted toward their score.
Tang said regardless of the level he's just happy to be recognized.
"It is cool to be accredited," he said. "That is what was most important."
Tang said the application took longer than he thought it would, but suggested more businesses should apply because many of them would qualify. He said there ought to be more certified bicycle friendly businesses in a region that is trying to obtain an overall platinum bicycle friendly award.
"It will help us get noticed nationally if we have a 40 percent bicycle friendly business rate," he said. "I think that would be really cool."
Ordinary Bike Shop joins The Law Office of Eric Post (silver), Sanofi Aventis Tucson Research Center (Bronze), Van Amburg Law Firm, PLLC (Bronze) in being awarded a bicycle friendly business status in the LAB's latest announcement. TriSports.com was awarded the silver level two years ago.
There are only two more bicycle friendly businesses in Arizona. Download the entire list of all the U.S. bike friendly businesses here.