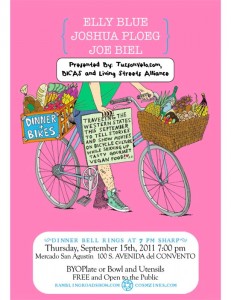 I was so excited about the event that is bringing Portland bicycle advocate Elly Blue and friends to Tucson for a dinner and discussion about bicycles that I helped sponsor it.
The event is the 2011 Dinner and Bikes Tour, which will take Blue, bike activist, publisher, and filmmaker Joe Biel, and world famous vegan chef Joshua Ploeg, from their hometown of Portland all across the Western United States.
Here is the goal of the event according to a release from Living Streets Alliance and BICAS, who are organizing the event.
"The 2011 Dinner and Bikes Tour is an evening of gourmet vegan food and bicycle inspiration. The goal is to create an interactive, engaging event that brings together people with diverse interests that catalyzes new thinking and action around food and transportation."
Here is what Blue had to say about the event on a post for Grist Magazine.
"For the month of September, I'll be traveling around the western U.S. as part of the Dinner & Bikes Tour, talking and learning about the bike economy in places as far-flung as Tucson, Ariz. and Spearfish, S.D. I'll be blogging here about the bicycle economy and culture in the places we visit along the way."
The event is free and open to the public. Because the event is free, any donations made at the event will benefit Living Street Alliance and BICAS.
Here's how the event will work:
The evening will start at 7pm and last until 9pm, leaving plenty of time for questions, as well as audience discussion about local issues in bicycle transportation.

You'll fill up your plate, find a seat, and enjoy new and amazing flavor combinations while touring vegan chef Joshua Ploeg describes the meal and ingredients and tells his traveling stories.

Elly Blue provides an interactive primer on the economics of bicycle transportation, complete with inspiring photos and jaw-dropping statistics. Then Joe Biel will take the stage with a different selection each night of his very-short films that explore different aspects of Portland, Oregon's bicycle activism and culture.

You'll also be able to peruse our mobile book and zine shop, featuring transportation and food related titles.
It will take place Thursday, September 15 from 7-9 p.m. at the Mercado San Agustin at 100 S. Avenida del Convento.
You can let the organizers know you are coming on the Facebook page.
Remember to bring your own plates and utensils as the organizers are trying to make this a zero waste event.
Blue and Biel did a similar tour last year and they produced a film about it. Check it out.
Bikestravaganza Tour Summary from Cantankerous Titles on Vimeo.