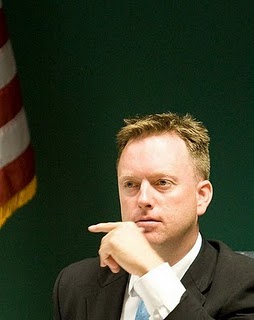 I ran into District 8 Republican congressional candidate Jonathan Paton at a coffee shop and asked if I could speak to him about his stance on bicycles and infrastructure funding. Paton is running against Democratic incumbent Gabrielle Giffords. Below are excerpts from our conversation.
Paton said he worked with the Pima County Attorney's office to try to craft legislation that would increase penalties for divers found to be negligent in injuring a cyclist.
"I was really concerned by the fact that Tucson has a growing bicycling community and I felt that like there is an adversarial relationship that happens between motorists and cyclists. The penalty for actually being negligent as it relates to a bicycle crash is minimal in this state.

I felt like it should be a lot greater. I talked to the Pima County Attorney's office to try to come up with a bill that would at least provide some accountability for doing some of the horrible things on our roads."
Paton said the legislation never got off the ground.
He was also a supporter of protecting Fantasy Island.
"The second thing that is really important to me is Fantasy Island which was in my district and still is in the district that I am running in now.

It has been slated for development and I have tried to protect it. We sent a resolution to the governor that was fought by the state land department basically saying we wanted to protect Fantasy Island."
Paton hadn't heard of Ray LaHood's comment about bicycling and walking being equal to driving when it comes to transportation funding but said transportation policy should be handled on a local level rather than federal level.
"I've always looked more on the local level about city planning and that kind of thing. I am kind of a states rights guy because it needs to be handled in the states.

We are trying to conserve energy and get Americans to get out of their cars and get on bicycles and I think that whatever we can do to get local people to plan is good.

On a philosophical basis I think the the federal government is in the state's business too much. I think it has to happen on a local level.

My belief about transportation funding and most funding from the federal government — wherever possible — I think they should give the money to the states. And you and other people in the community should tell the states, 'Hey this is how we think the money should be spent.' The federal government, I don't believe, should dictate to the state that they should have more roads for cars or more lanes for bikes.

The reason why is, you ran into me running for congress here in this coffee shop, but the fact of the matter, the people who are at your state legislature are going to be more accessible.

I think the more they try to tell us how to spend the money, whether it sometimes benefits you or sometimes it doesn't, I think it is a bad thing."
Paton said he likes to ride his mountain bike, but hasn't gotten to do it as much since he started the campaign.
"I ride a lot over at the loop at Saguaro National Monument on the eastside. But then I try to go on Fantasy Island. Obviously I am not riding as much as I used to. I've gained weight since I started this campaign.

I like it because it is easy on my knees compared to running. I have to stay in shape for the army. I would love nothing more this afternoon instead of having to go to an event, to go do the loop.
Paton said he believed cycling could be a viable form of transportation and said that Americans could use the exercise bikes provide.
Americans are too fat. I think if they rode more and walked more they wouldn't be as fat.

Here is why I say that. I served in Iraq and I lost a ton of weight and the main reason is, I had to walk everywhere I went. I did finally get a bike, but I walked everywhere.

I lived overseas and studied at the University of Munich — same deal — I had to walk everywhere or take the subway and I lost a bunch of weight.

I think that we eat too much, we do too little as a society.

What is fascinating is the numbers from a military readiness perspective. Most of the kids going into the services can't pass the PT test. They have to setup a special fat camp just prior to that to get people so they can actually start basic training.

That is a national security issue if you think about it and it is primarily because we drive everywhere. I am as guilty anybody else. Of course I have a district where I put 20,000 miles on my car in my first campaign. That is why I envy the people here in 28. They have a small compact district. They can pedal wherever they want. I don't have the luxury.
I'll attempt to speak with representative Gabrielle Giffords about her stance on cycling before the election. Check out the bills Paton sponsored while he was in the Arizona House of Representatives.