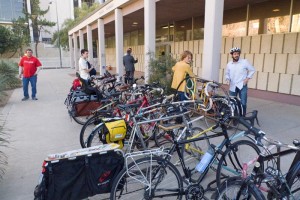 Bike advocates will have two more weeks to make their case for improved bike parking in Tucson.
The mayor and council unanimously approved a motion proposed by Councilwoman Regina Romero to send the bicycle parking changes back to the land-use committee to come to a consensus with the cycling community.
The motion required revisions be made and returned to the council at their meeting on March 22.
The council was very happy with the revisions to the automobile parking code, but wanted to revisit the bicycle parking before approving the new code.
The proposed changes allow developers to move bicycle parking further away from entrances and reduces the total number of bike parking spaces.
Mayor Bob Walkup said he plans to meet with cyclists in the next two weeks to get a better idea of what changes need to be made to make bike parking in Tucson something the city can be proud of.
About 20 cyclists came to the meeting to voice their concerns about the proposed changes. Speakers touched on safety and security concerns, quality of life issues and the need to encourage cycling in Tucson.
Several cyclists pointed out that even though adding 25 feet doesn't seem like a lot — in many instances it would allow developers to move the parking around a corner, which would decrease the safety of cyclists and their bikes regardless of the additional security measures required.
While the cyclists said the code should follow the Association of Pedestrian and Bicycle Planners guidelines for bike parking in all areas of the code, Councilman Steve Kozachik said he thought some of the national guidelines for the number of bike parking spaces were excessive.
He said requiring 150 parking spaces for a movie theater wasn't realistic and that he hadn't seen 150 bikes parked in any location that wasn't a triathlon.
Jason Wong, a developer and member of the land-use committee that worked on the revision, said the proposed code allows for flexibility for developers, but he is ready to work with the bicycling community to revise the code.
"We tried to get a code that everyone is happy with," Wong said. "I think we are close, we've got two weeks to work with the BAC. We are working to create a good environment to live in, to work in and to bike in. I think within the next two weeks we'll have a great committee and we'll work it out and we'll have a great parking amendment that makes everyone happy."
Tucson-Pima County Bicycle Advisory Committee president Karen Berchtold said she will work with the land-use committee to try to alleviate some of their concerns about the APBP guidelines.
Living Streets Alliance founder Emily Yetman said she will also work with the committee to improve the bike parking, and is encouraged by the participation from cyclists.
"I thought it was really good to see how many people turned out," Yetman said. "There were a lot of helpful arguments for why this issue is important."
BAC member and alliance member, Ian Johnson agreed.
"If nothing else, I think the development community heard tonight that bicyclists really do care about these issues," Johnson said. "I think that is a victory for us."
Yetman said the council made the right decision in sending it back to the land-use committee.
"It would have been horrible if it would have passed," she said. "It is easy to want instant gratification with a verdict tonight, but showing that they are willing to go through another round of the public process is the right thing to do."
It wasn't immediately clear how or when the land-use committee would meet to address the issues.
Stay tuned to TucsonVelo for updates.