The Pima County Parks and Recreation department is currently developing two projects which they hope will make cycling easier and safer on the Rillito River path at Campbell Avenue.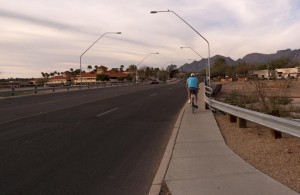 Assistant County Administrator Nanette Slusser said the county is investigating paving the north side of the Rillito between Campbell Avenue and the Country Club bridge, as well as the south side of the Rillito from Campbell Avenue to Mountain Avenue.
County officials are working with area residents to ensure their concerns are considered in the development process. Slusser said no timeline for completion has been set.
The two projects would allow cyclists to remain on the north or south side of the Rillito without having to ride on dirt and would allow cyclists who want to switch sides to switch at the bike-and-pedestrian-only Mountain Avenue or County Club bridges.
Currently cyclists who want to remain on the paved portion of the Rillito must cross the Campbell Avenue bridge, which does not have bike lanes. Many cyclists ride on the narrow sidewalk instead of the road.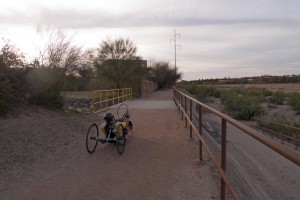 Rosa Valenzuela, who rode against traffic on the sidewalk, said she rides the Rillito path often. She said crossing the bridge can be dangerous, especially when there are people trying to cross in the opposite direction.
Lynne Sterr said she thinks it is dangerous to ride on the dirt on the north side of the Rillito and is excited about the prospect of Pima County paving it.
"It is dangerous," said Sterr, who was crossing the Campbell bridge to get to Trader Joe's. "You have to go slow and you have to be careful. I'd like to get some asphalt and do it myself."